The science of plastic surgery is rapidly changing. The changes are so fast-paced that I started comparing today's trends to last month's, not last year's. Things that were thought impossible before are becoming reality before our eyes. In such a volatile environment, we are pushing on without knowing where we are going. However, we still need to prepare for the future and that starts with reviewing the past. Dr. Ju-hyuk Lee of KIES-U Plastic Surgery leads a new series on the present and future of plastic surgery.
What is behind the recent popularity of microtextured implants?
I am seeing more and more patients asking about microtextured implants for breast augmentation. Sebbin or BellaGel products are some of the most popular. Many doctors may still be unfamiliar with the term 'microtextured implants.' In the past, Allergan's Biocell was categorized as macrotextured implants and Mentor's Siltex as microtextured implants [Derby, Brian M.; Textured Silicone Breast Implant Use in Primary Augmentation: Core Data Update and Review, PRS Jan2015;135(1), 113-124]. However, such categorization was used within the academia and was not widely used by the public.
The current popularity of the term microtexture does not accurately reflect the scientific concepts and is being rampantly used as a marketing keyword by distributors and even some plastic surgeons.
The microtextured implants of Sebbin, a French manufacturer, have become very popular in Korea. Advertisements claiming they offer a natural texture with a lower risk of capsular contracture have successfully won over the public. And naturally, Sebbin's implants have become very hard to come by in Korea. Catching on to this new trend, BNS Med quickly developed a microtextured implant line called BellaGel and entered the Korean market.
These microtextured implants have micro bumps on the surface that are only 30-40 micrometers wide. This creates a very smooth surface. What is the reason for designing the bumps to be that small?
Sebbin's product catalog does not mention "natural feeling" anywhere to describe their microtextured implants.
1. Ease of insertion and less friction on the tissues.
2. Minimizing the rate of capsular contracture.
It does, however, explain that the implants are "textured and are not prone to capsular contracture. The microtextured surface makes it easy to insert them." However, there is no clinical or scientific data supporting this claim. It is surprising that many people have accepted as a fact that microtextured implants are safe from capsular contracture due to aggressive marketing.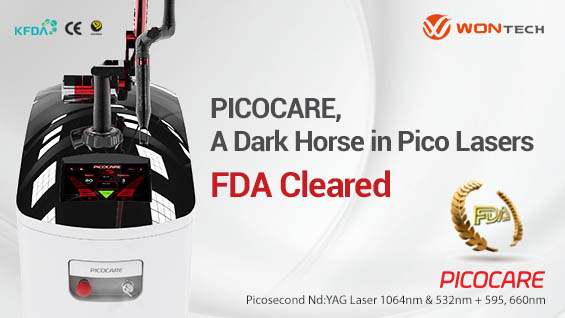 [Advertisement] PICOCARE - Manufacturer: WONTECH(www.wtlaser.com)
Any surgeon specializing breast augmentation would know that the resistance of textured implants to capsular contracture is irrelevant in Korean patients who mostly go through submuscular placement. When McGhan first developed the textured shell, the primary goal was to promote tissue ingrowth and prevent capsular contracture. However, there is a growing consensus that they failed in achieving this goal.
Early on, Tebbetts already explained that the textured shell is not effective in preventing capsular contracture.¹ He found that some plastic surgeons mistakenly think that tissue adherence of the textured shell is important for preventing capsular contracture. However, FDA's PMA study (comparing textured and smooth saline implants) already found there is no difference in the incidence of capsular contracture between the two types.
-To be continued