Table 1. The 14 point plan for preventing capsular contracture. It cannot be said that all surgeons agree with this but various peer reviews have mentioned similar measures for preventing capsular contracture in the past few years (Source: William P. Adams, Jr., Macrotextured Breast Implants with Defined Steps to Minimize Bacterial Contamination Around the Device: Experience in 42,000 Implants., Plast. Reconstr. Surg. 140:427,2017).
It has been over thirty years since the introduction of textured implant shells but its association with a lowered risk of capsular contracture is yet to be shown. It is worrisome that many doctors recommend microtextured implants, which have been only recently introduced, as causing less capsular contracture and not requiring massaging without any clinical evidence.
Do the tiny bumps of only 40 micrometers in diameter help prevent capsular contracture? Also, how durable and free from other complications is the microtextured shell? I presume that most manufacturers are not confident about the risk of rotation as they are not producing anatomic implants. However, there is no agreement or data on the difference in the risk of rotation between macrotextured and microtextured anatomic implants.
I have not seen any paper that examined these new implant products. Data on Motiva implants which claim to be nanotexured is simply nonexistent. The current trend favoring microtextured implants in Korea completely ignores any scientific consensus on the matter and is solely driven by marketing experts. I wonder if the medical market and patients are falling victim to their very effective campaigns.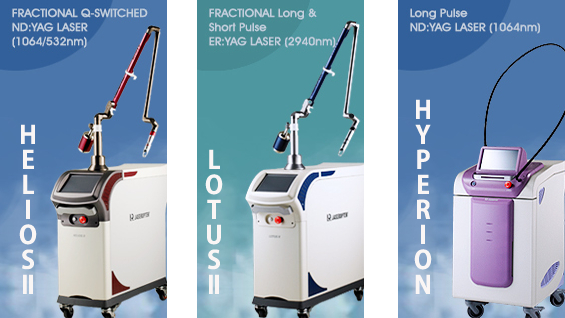 HELIOSⅡ/LOTUSⅡ/HYPERION – Manufacturer: LASEROPTEK(www.laseroptek.com)
References
1. John B. Tebbetts, Augmentation Mammaplasty: Redifining the Patient and Surgeon Experience. Philadelphia: Elsevier; 2009. pp.129.
2. Elizabeth Hall Findlay, Aesthetic Breast Surgery; Concepts&techniques. St. Louis: QMP: 2011. Pp.166
3. Wan, Dinah: Revisiting the Management of Capsular Contracure in Breast Augmentation: A Systematic Review., PRS 2016:137(3), 826-841.
-To be continued