Basic Concept of LASER
Jeong-Hyun Yoon, a Plastic Surgeon & President of Yonsei Fams Clinic, who also serves as the chairman of the Korean Aesthetic Surgery & Laser Society, is starting to publish a series of articles on the topic of laser. Always researching more effective and safer treatments, he shares his laser-related knowledge with readers. He discloses his know-how on treatments that he has performed during his long clinical experience. He hopes that this article will provide useful information for those who have no experience with laser or who wish to use in the future. (Full text)
Before learning more about each type of laser, I think it would be helpful to have a look at the history of laser and its basic concepts. First of all, let's take a look at the characteristics and history of laser.
The first thing that always comes to my mind when I hear the word LASER are lightsabers from the movie "Star Wars." However, several characteristics of laser are actually well represented by these fantastic lightsabers. The differences between laser and light are laser's 1) monochromaticity, 2) coherence, 3) collimation, and 4) high intensity. Yoda fights with a green lightsaber (520~565nm wavelengths), Luke Skywalker with a blue one (430~500nm wavelengths) and Darth Vader with a red one (625~750nm wavelengths). Each lightsaber has one color and energy powerful enough to cut through anything, pointing straight to the same diameter. In other words, all the characteristics of the laser mentioned above can be also seen in lightsabers…
The first thing that always comes to my mind when I hear the word LASER are lightsabers from the movie "Star Wars." However, several characteristics of laser are actually well represented by these fantastic lightsabers. The differences between laser and light are laser's 1) monochromaticity, 2) coherence, 3) collimation, and 4) high intensity. Yoda fights with a green lightsaber (520~565nm wavelengths), Luke Skywalker with a blue one (430~500nm wavelengths) and Darth Vader with a red one (625~750nm wavelengths). Each lightsaber has one color and energy powerful enough to cut through anything, pointing straight to the same diameter. In other words, all the characteristics of the laser mentioned above can be also seen in lightsabers.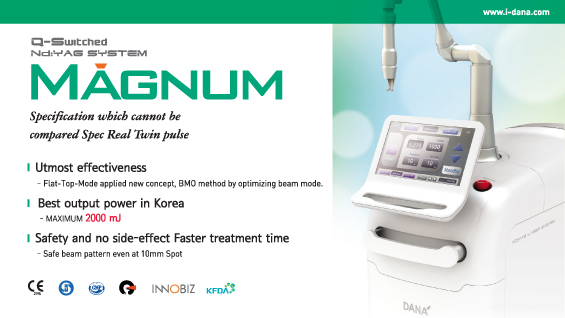 [Advertisement] MAGNUM(Q-switched Nd:YAG Laser) – Manufacturer: (www.i-dana.com)]
Looking at the history of laser, in 1917, Albert Einstein introduced a concept of stimulated emission which is a process by which a first photon interacts with an excited molecule or an atomic electron and creates a second photon with the same phase, frequency, polarization, and direction, and by this he laid the foundation of laser technology. In 1928, Rudolf Ladenburg reported an indirect evidence for the existence of stimulated emission. In 1940, a Russian physicist Valentin A. Fabrikant proposed that stimulated emission caused by a gas charge can under certain conditions lead to light amplification. He, however, was unable to come up with a suitable resonator for the amplification. In 1951, Charles H. Townes proposed that stimulated emission from microwave frequencies vibrates in resonant cavity and is capable of providing consistent output (Microwave Amplification by Stimulated Emission of Radiation, MASER).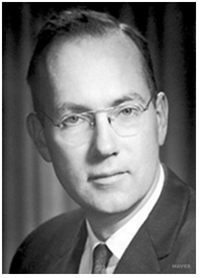 Image 1. Charles H. Townes
- To be continued