▶ Previous Artlcle: #8-1. Er:YAG Laser
Usually, I like to compare Er:YAG laser to a knife. This is because Er:YAG laser vaporizes a tissue with precision as if you peel each layer of an onion off with a knife. If I am asked to choose my favorite laser, I will choose Er:YAG laser without hesitation. Er:YAG laser is very masculine in terms of power but very feminine in delicacy.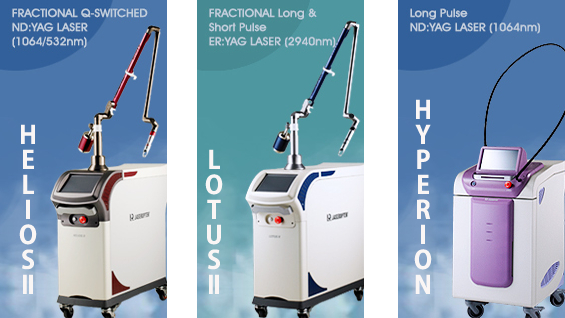 HELIOSⅡ/LOTUSⅡ/HYPERION – Manufacturer: LASEROPTEK(www.laseroptek.com)
For this reason, it makes laser operators comfortable and brings patients high satisfaction with outcomes which is unmatched by other ablative lasers. As mentioned earlier, Er:YAG laser provides advantages of initially vaporizing a tissue with precision while minimizing thermal damage to surrounding tissues using a short pulse of 250 µs; and removing a large lesion in a short time by adjusting spot size.
Therefore, in comparison with CO2 laser, Er:YAG laser shows a faster regeneration of epithelial tissue and greatly reduced incidence of sequela such as scars or redness.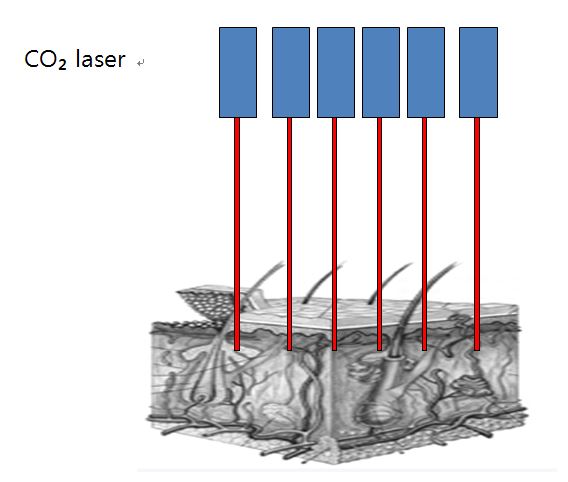 Figure 1. CO2 Laser.
However, short pulses are good for vaporizing a tissue but have no action of coagulating the tissue. In this regard, Er:YAG laser is not useful for hemostasis of bleeding, and in most cases, CO2 laser is also used for hemostasis. The modulated Er:YAG system launched after short pulsed Er:YAG laser is an advanced version with both short pulse and long pulse. Modulated Er:YAG system can be used to enable deeper peels, facilitate hemostasis, and increase the collagen remodeling effect.
-To be continued