ATLAS XL is a laser for a variety of vascular and pigmented lesions of the epidermis and dermis with dual wavelength of 532nm and 940nm long pulse. 532nm fractional scanlaser is especially allows for more variable indications.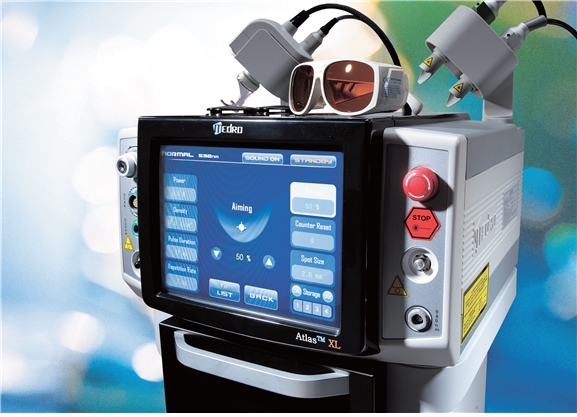 In addition to the affordable price and virtually no expendable component, the two wavelengths also maximizes its therapeutic effect. It occupies less space with its compact design, and induces no bruising, making it effective for the treatment of pigmented lesions, including hypochromic lentigo. Less PIH is particularly one of the major benefits of ATLAS XL laser.
The zoom handpiece allows spot sizes of 0.7-2.8mm for more precise procedures. Pulse duration of 6-400ms and maximum 15Hz frequency contributes to saving procedure time. There is no hassle of having to change the handpiece for different spot sizes. The soft fiber makes it comfortable to use at any angle.
High energy 532nm for vascular lesions provides immediate outcome and high patient satisfaction with stable treatment and without a major side effect. Clinical experience so far supported great effect for inflammatory acne, possibly because 532nm infiltrates deep into the sebaceous glands.
When used for the treatment of pigmented lesions, it generates solid crusts, which is helpful for wound recovery and the prevention of PIH. It is also less associated with side effects of high energy IPL, such as 'tiger stripping'.
Another advantage of ATLAS XL is 532nm ScanLBO scanner mode. 532nm long pulse laser in fractional mode allows rapid and uniform treatment across wide areas, making it safe and effective for general skin rejuvenation. It is also useful in terms of device utilization because both vascular and pigmented lesions can be treated simultaneously with a single procedure.
The ScanLBO scanner mode allows free adjustment of the distance between spots, treatment area, shape, speed and pulse duration, for individualized application according to the skin type and condition.
Treatment with 532nm in patients with melasma, which had no remarkable response to several procedures of laser toning, could achieve superior laser toning effect. It has been effective for the treatment of epidermal melasma, which were not fully treatable with laser toning alone, and toning-induced hypopigmentation, without causing damage to the surrounding tissues. It also relieves vascular melasma by selective treatment of vascular proliferation underneath, which is referred to as a dual laser toning.
Appropriate treatment parameters, in combination with the zoom handpiece and ScanLBO scanner, can be applied to various indications, including pigmented and vascular lesions, acne, pore, removal of fine hair and flushing, only by limited number of procedures. Taken together, ATLAS XL seems a reasonable choice for dermatologists who want to provide patients with various treatments or those who want to purchase a vascular laser device.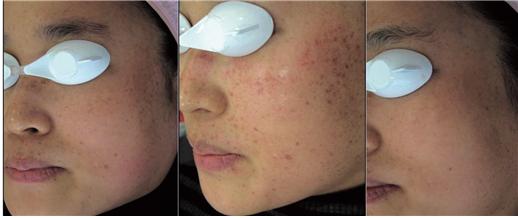 Before and After Procedures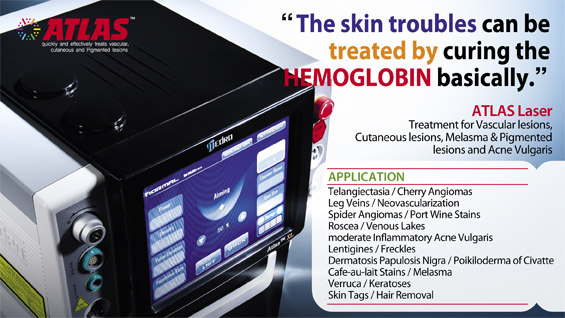 [Advertisement] ATLAS(Long pulse 532nm & 940nm dual wavelength) – Manufacturer: MEDRO(www.medro.net)