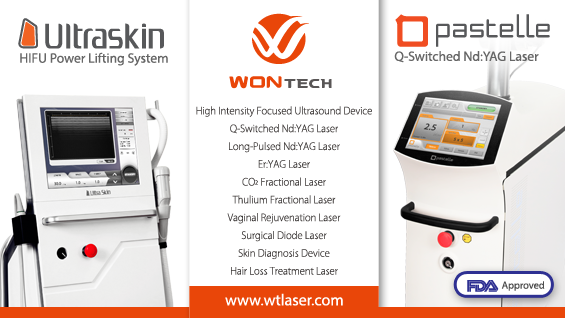 [Advertisement] Ultra Skin/Pastelle – Manufacturer: WONTECH(www.wtlaser.com)
Melasma is one of the most common pigmented lesions that mainly affect Asian women. Genetics, ultraviolet rays, pregnancy, medication, malnutrition and menopause are involved in the etiology of melasma. As various causes exist, melasma is known to be intractable. It can rarely be cured and despite treatment often recurs after a brief period of improvement.
The Q-switched Nd:YAG laser is often used for effective treatment of melasma. Medlite is an Nd:YAG laser indicated for pigmented lesions. It was developed by HoyaConbio, an American manufacturer and was introduced in Korea in the late 1990s. However, only few hospitals could afford the device at the time due to its exorbitant cost. Korean devices started being developed around the early 2000s and COSJET TR by WONTECH was among a few Korean devices that have been made available in dermatologist offices at a lower price than Medlite.
In the early days, COSJET TR was used in tattoo or liver spot removal. With the advent of laser toning that uses repeated shots of low fluence (energy per unit area), many manufacturers introduced Nd:YAG devices. High output and large spot size are necessary to deliver the laser energy to melanin lying deep in the dermis. However, as the treatment method used high output, large spot size and repeated irradiation, products of inferior quality suffered technical flaws such as rapidly deteriorating output or no output at all. Quality devices developed from innovative technology have become the mainstay in laser toning treatment of pigmented lesions.
I have used COSJET TR since the very start of my practice and am currently using Pastelle, an upgraded version of the previous device. Pastelle has improved on COSJET TR's output and safety.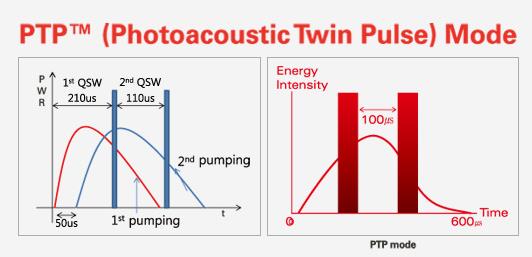 The PTP (Photoacoustic Twin Pulse) mode applied to Pastelle delivers continuous high output energy in twin pulses separated by a very short pause. As it has high output and maintains consistent level of energy over a large area, it can be irradiated over the entire face with better outcome. The PTP mode divides the pulse into two and has a lower risk of damaging surrounding tissues, is less painful and promotes faster regeneration compared to previous Single Pulse method. Moreover, it also has fewer side effects of hypopigmentation and PIH, etc. Clinical studies have shown that the PTP mode was less painful and caused milder pigment response compared to the Single Pulse of the same energy level.
Pastelle is also equipped with Auto Calibration to resolve the issue of the falling output with use.
Lamp-pumped devices suffer declining output as the lamp efficiency dwindles with use. Pastelle is installed with a system that automatically compensates for loss in output through an output check using photo diode on an optical path. This enables safer treatment without having to compensate output values during treatment.
In conclusion, Pastelle is a Q-switched ND:YAG laser with a high output for removal of pigmented lesions. As it maintains a consistent level of energy over a large area, energy can be evenly irradiated over an entire face. These functions minimize thermal damage while selectively destroying pigment in the dermis. As most Korean female patients present mixed melasma, it is important to treat both dermal and epidermal lesions. Laser toning with Pastelle selectively destroys pigments by mildly affecting only increased pigments. Pastelle toning has the added benefit of collagen remodeling for pore reduction and tightening. The high output laser beam of Pastelle delivers energy into the skin without damaging the epidermis and improves elasticity as well as large pores, etc.
Lastly, once melasma and pores become visible, they are rarely improved by self-care. Therefore, it is important to prevent the onset of these conditions and meticulously apply UV blocking agent after receiving treatment.
by Shim Sangdae(Medical Director, Uijeongbu Human Dermatology Clinic)
-To be continued-