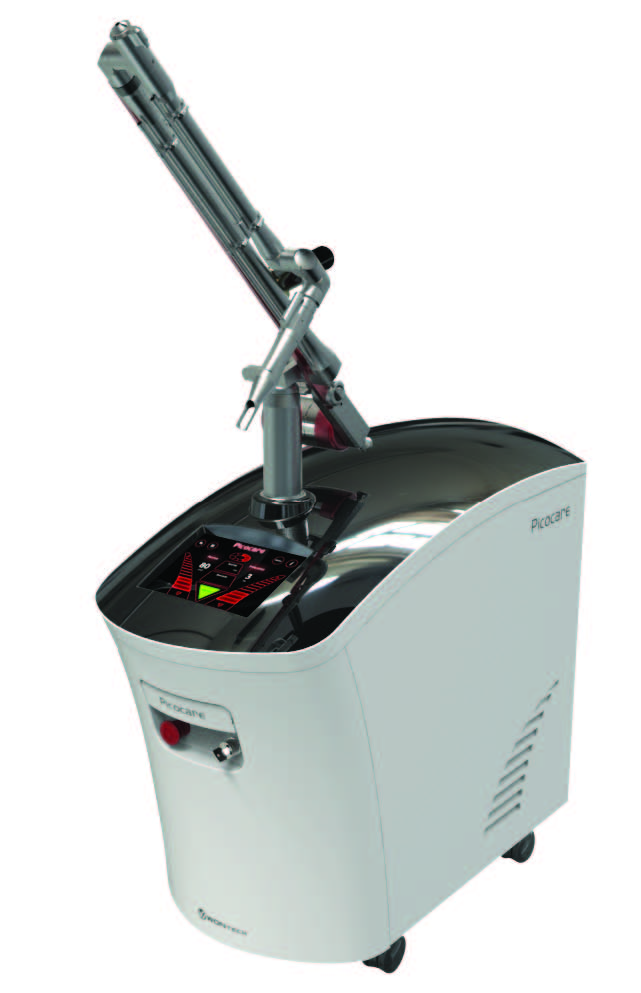 Tatoa Clinic specializes in tattoo treatments – both creating and removal – and has always tried to keep up-to-date with newest developments in this field. They found that the Q-switched nanosecond laser often did not completely remove melasma and tattoo lesions. The treatment was time-consuming and was not fully satisfactory. Naturally, the specialists at Tatoa Clinic became interested in the picosecond laser.
The picosecond laser, which improves upon the drawbacks of nano-second laser, shortens the treatment period as well as destroys even the most persistent pigment traces, bringing a clarified skin. This is why I chose the picosecond laser. I wanted my patients to benefit from the latest developments in laser technology. I treat patients from many different countries and needed to update the devices at my practice. For these reasons, I decided to use Wontech's PICOCARE. PICOCARE is a laser specialized in tattoo removal and is known to sufficiently clarify various tattoo lesions with only 2-3 treatments. Lastly, we were already receiving maintenance services from Wontech for PASTELLE and COSJET ATR. This was also an important reason to go with the same manufacturer.
Product overview
By the time I started becoming more interested in the picosecond laser, there were already many picosecond laser devices available in the market. After much consideration, I decided to request a trial of PICOCARE. The manufacturer confirmed the 750 picosecond pulse with an oscilloscope before installing the device for trial.
I found that with the picosecond laser, sufficient removal of pigments was possible with only half of the energy level used in the nanosecond laser. This also caused less pain during treatment and even patients with very sensitive skin could try the treatment. Some patients said that they felt less pain and burning sensations compared to the previous nanosecond laser therapy. During the long trial period, I also experienced that the device had excellent safety and reliability.
Tatoa Clinic is visited by not only Korean patients but those from many countries including China. These patients present a wide variety of different conditions. And it was imperative to be able to customize treatment to each patient using a laser with a varying range of wavelengths.
Precautions
Precautions of using the picosecond laser are similar to those of the Q-switched Nd:YAG laser. As the treatment period and pain are shorter with the picosecond laser than the nanosecond one, it would help to explain to patients the unique benefits of PICOCARE prior to treatment.
Treatment protocol
PICOCARE removes sufficient amount of pigments at only half of the fluence level used in previous lasers. For example, in melasma, only three treatments with PICOCARE bring comparable results to that of six laser toning treatments using a nanosecond laser. With the picosecond laser, only slight erythema and no frosting develop at endpoints. Erythema and frosting are more pronounced with a nanosecond laser. This means that the picosecond laser can use a much lower energy and causes less side effects than the nanosecond laser, while having superior efficacy.
Currently, PICOCARE is set at 1064nm and 532nm, with an additional dye handpiece with 585nm, 595nm, and 660nm. An optional handpiece can be purchased for treating erythema, and various other pigmented lesions. The Micro Array Lens handpiece can also be added for scar removal, lifting and tightening. The Micro Array Lens handpiece is currently under development at Wontech and will be released in the market in 1-2 months. It is an eagerly awaited update.

Figure 1. Beam profile and pulse duration of PICOCARE.
Possible side effects
Mild erythema may develop after treatment but disappears in a few days in most cases. It is also important to use UV block as well as regenerative or whitening cream. If blisters form after tattoo removal, apply a topical antibiotic and protect the affected area with a Duoderm patch.
Optimizing the treatment outcome
From treating patients with various needs, I have developed a few tips on how to maximize the desired treatment effect. I use the Genesis Mode of the long-pulsed Nd:YAG laser to heat the dermis before performing laser toning with PICOCARE. This brings the highest patient satisfaction.
When using high fluences of 1064nm and 532nm, it is necessary to apply the regenerative cream and UV block after treatment. I use prescription-strength whitening agent in some cases and add a topical steroid if the treatment was a bit aggressive. The best way to increase patient satisfaction is to provide thorough post-treatment care and earn their trust.
Reasons for recommending PICOCARE
Many specialists are still using nanosecond laser devices but the laser technology continues to improve. I expect that the market for picosecond laser toning will grow rapidly in the future.
The greatest benefit of PICOCARE is that it increase patient satisfaction with less pain and a lower risk of side effects. As mentioned already, Tatoa Clinic specializes in tattoo procedures and tattoo removal is a large part of our work. We have treated many patients using Wontech's PASTELLE and COSJET ATR. PICOCARE improves upon what the previous devices have not been able to address. This is shy I strongly recommend PICOCARE for pigment removal.
Article/Nam-hoon Kim (Sinsa Tatoa Clinic)