Indications of PicoWay
In my experience, PicoWay does not always have favorable outcomes in scars or rejuvenation treatments. There is no theoretical basis, however, I believe that a limited plasma is generated within tissues to promote collagenesis. Plasma is a thermal effect. The molecular arrangement is disturbed by strong energy released in a short period of time, which releases free electrons. When this takes place in living tissues, the volume is amplified.
PicoWay Combination Therapy
I combine PicoWay with the Q-switched Nd:YAG laser or needle RF. I can count on the Q-switched laser to save the day as I am very familiar with it. The needle RF forms a very good combination with the picosecond laser as laser can only reach a limited depth in the skin. To reach a deeper part of the skin, laser would cause too much damage to the epidermis. This is why the needle RF can complement laser to address the deep dermis.
Dr. Gyung-ryul Lee of Skinda Dermatologypurchased PicoWay because he prefers a laser device with a short pulse specification. PicoWay will be equipped with a tri-beam functionality as the 785nm is switched out with 300psin the near future.
Dr. Min-ho Lee of Bestop Clinic – Picocare
What was the reason for purchasing a picosecond laser?
I was curious about the performance of this new and innovative laser in the clinical setting. I knew it would open up a new market that the Q-switched Nd:YAG laser could not for the past decade. I expected that the shorter pulse duration will more effectively destroy pigment particles than the nanosecond lasers with a much longer pulse duration such as 10ns or70ns, etc.
Any aesthetic clinician using a dermatologic laser would be very interested in the innovative picosecond laser. Many are hesitant about adding this new device due to the lack of clinical data and the high cost. From my experience, I would like to say that the picosecond laser has definite advantages over the Q-switched laser.
Why did you choose Picocare?
I thought it would be important to purchase from a manufacturer with proven technological prowess.There are a few Korean manufacturers known for their leading technology. I remembered that many of my colleagues praisedWontech'sPastelle. When Wontech released Picocare, I did not think twice and made the purchase.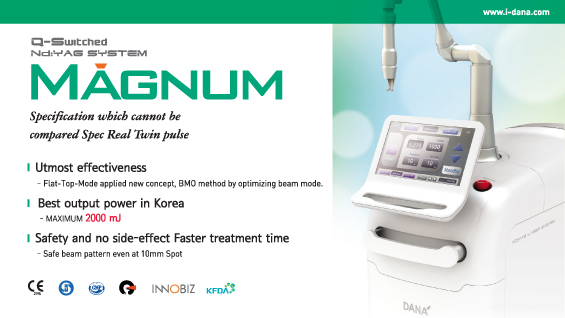 [Advertisement] MAGNUM(Q-switched Nd:YAG Laser) – Manufacturer: (www.i-dana.com)]
-To be continued-
[Advertisement] MAGNUM(Q-switched Nd:YAG Laser) – Manufacturer: (www.i-dana.com)]