I was a bit reluctant at first. The price of a single needle was exorbitant. It ranged from USD 40 to 70 depending on the exchange rate. I knew that paying USD 40 per needle would not be financially feasible. I told him that if he brought the price down by half I would consider his offer. He accepted my request and we started investing in the development.
The situations at Gowoonsesang Dermatology led me to seek development of the new insulated needle device. At the time I was managing an MSO called Gowoonsesang B&H. It played a supportive role to the clinical practice but I wanted to create an independent profit model for it. The cosmetics line was being managed with its own profit model but the MSO was not. As Dr. Kobayashi's insulated micro needles had proven efficacy in over thousands of patients, I was sure that the device would have demand. As the therapy was known only in Japan and Korea, I thought it had great potential in the global market as well.
Turning hardships into opportunities
First, I created a production team of engineers. It was not easy to create high quality RF. In the beginning we hired a contractor but it turned out to be a scam. The contractor we hired kept postponing the delivery for about a year and just disappeared. I tried looking for him but he owned no property under his name and had credit delinquency. That is when I realized that I was scammed and that I need to do a background check before hiring a contractor.
This wasted precious time and money but I did not give up and decided to find another engineer. Fortunately, I found a very good one and was able to complete the product in 2012. In 2013, my device obtained MFDS approval. However, while the development of the RF part was coming along, the needle manufacturer closed down due to insolvency. I now had no way of getting the needles which is the very core of Dr. Kobayashi's treatment. I had spent hundreds of thousands of dollars in development up to that point. I had nearly spent USD 1 million in hiring, development and obtaining approval.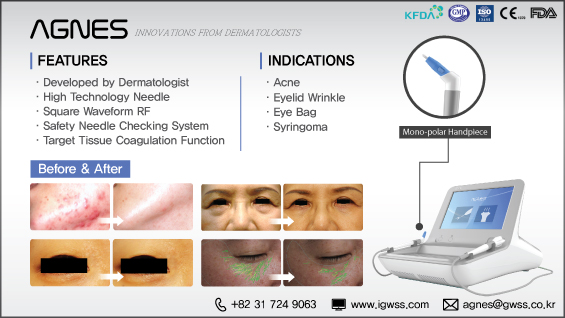 [Advertisement] AGNES(Radio Frequency) – Manufacturer: (www.igwss.com)
I felt desperate. I went to Japan and met with the CEO of the needle company but there was little that he could do for me. As the saying goes "Seek and you shall find," I decided to manufacture the needles myself. With the Japanese company, the cost of the needles was too high. The Japanese company made the needles completely manually and had low production. I thought it was necessary to change the manufacturing process.
After much trial and error, I was able to develop a more efficient manufacturing process and drastically lower the cost of needles. I cannot go into the details of this as it is proprietary information. In the end, it all worked out, even the closing of the Japanese needle manufacturer served as an opportunity to develop better needles. This also allowed me to expand the indications. It would not be possible to produce different needles for each new indication if I did not oversee the production myself.
AGNES now boasts a wide range of indications including acne, under-eye creases, syringoma, and under-eye fat removal. In the next article, we will discuss how I came to expand the indications for AGNES.
-To be continued