The effects of PNT can be largely categorized into four types. First is the regenerative effect. It can be used in wound healing and recovery of organ functions. Second is the anti-inflammatory and analgesic effect. Third, PNT has detoxifying action and can be used to improve liver function and fatigue as well as provides anti-aging and antioxidant actions. Fourth, it helps improve the quality of life. It effectively improves chronic fatigue, menopausal symptoms, and general weakness.
Use and Indication of PNT
In Korea, Melsmon and Laennec are both approved for subcutaneous injection and intramuscular injection. On the other hand, Laennec is approved for IV administration in Russia. Unlike Melsmon, Laennec is safer for IV administration. As Melsmon is indicated for menopausal disorders, and Laennec for chronic liver dysfunction, Melsmon has a wider range of applications. Fortunately, in Korea, medical products that are approved for uses lying outside insurance coverage can be used according to the medical specialists' discretion. Doctors who are well-versed in dosage and indications as well as well-read in relevant literature, etc. will not have problems.
For example, Health Insurance Review and Assessment Service of Korea viewed that prolotherapy of Laennec and Laennec injection are similar treatments as they are used separately or in combination in the same lesion. Despite the lack of scientific data supporting the medical validity of the treatment, as the treatments were not covered by the National Health Insurance, it is unlikely they merit a refund under the current laws (March 12, 2012).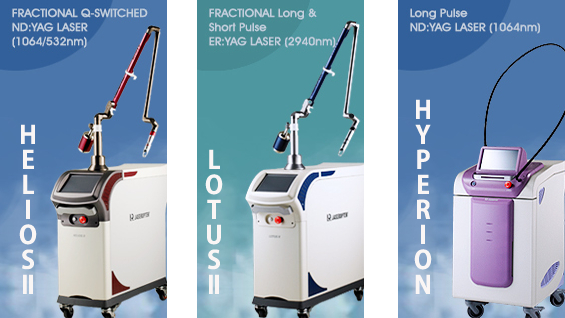 HELIOSⅡ/LOTUSⅡ/HYPERION – Manufacturer: LASEROPTEK(www.laseroptek.com)
PNT can be used in three treatment areas. First is the anti-aging and general well-being, where it can be used in the same manner as the IVNT for the purpose of improving the general health. It can be also used as an adjunct for increasing the efficacy of various other treatments for common cold, herpes zoster, liver disease, chronic fatigue, and cardiovascular diseases, etc. Second, PNT is effective in pain management as a topical anesthetic. Third, it can be used in aesthetic medicine. It can be combined in IVNT or topically applied for treatment of alopecia or wound care, etc.
I generally recommend using at least 3 ampoules of PNT when used in IVNT. It can also be added to Myer's cocktail or Dr. Son's cocktail. Although the hypersensitivity is rare, it may help to perform a dermatologic screening before treatment. It can also be combined with licorice therapy as in Dr. Son's cocktail.
-To be continued