▶ Previous Artlcle : #13-1. Biologically Derived Collagen: Elastin Dermal Substitute
The role and prospect of artificial dermis
Matriderm is a bovine-derived collagen/elastin mixed element in a three-dimensional structure and used as a template for dermal tissue regeneration. Matriderm can be used in synchronous transplantation and does not require multiple surgical procedures. Type I·II·IV collagen and elastin-hydroxylate, components of Matriderm, reduce contracture and stabilize the wound. It also promotes hemostasis and prevents formation of hematoma within the recipient site and thereby reduces the risk of graft failure as well as treatment period.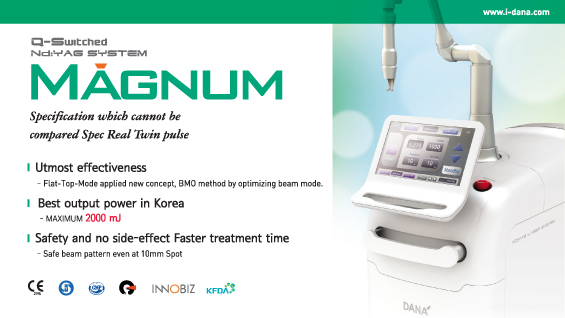 [Advertisement] MAGNUM(Q-switched Nd:YAG Laser) – Manufacturer: (www.i-dana.com)]
As reported in this case, extensive damage to soft tissue in the lower limb after trauma is often accompanied by fracture, ligament damage, and joint surface exposure. Due to the severity of the injury, lower limb dysfunction is expected even after successful skin grafting. Especially, wound contracture around the knee joint may impair the joint function and eventually gait disturbance which can greatly disrupt daily activities. I chose Matriderm because its major components, collagen and elastin, were deemed most appropriately among synthetic dermal substitutes to provide elasticity and flexibility.
Skin graft using Matriderm minimized the functional impairment of the lower limb from contracture and adhesion. This helped speedy recovery of the patient and initiation of physical therapy. Moreover, in terms of aesthetic outcomes, skin grafting with Matriderm resulted in better flexibility and elasticity compared to skin grafts without artificial dermis or other procedures using synthetic skin substitutes. Lastly, preservation of the skin texture was also superior with this procedure (Figure 4. 5).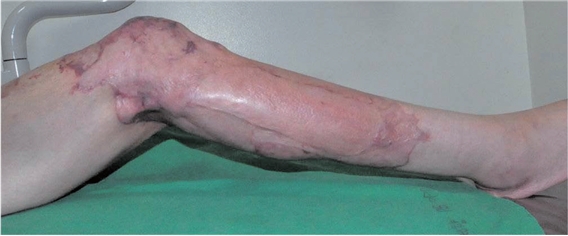 Fig 4. Two months after surgery. Knee joint area contracture and limited mobility were improved. Also, regeneration of elastic skin and skin texture of the grafted area resulted in excellent aesthetic outcomes.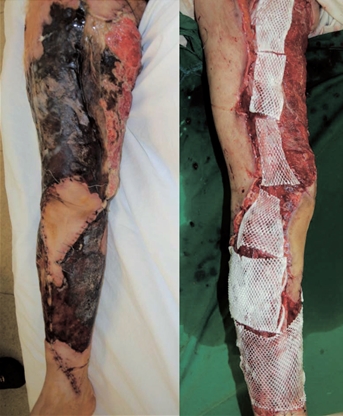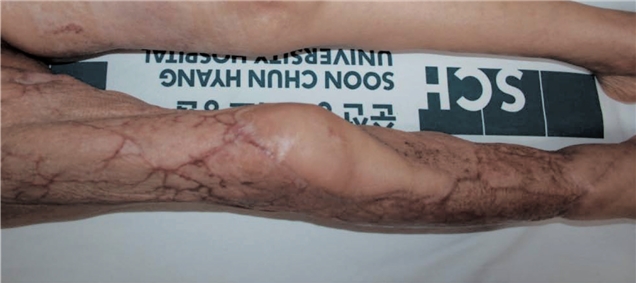 Fig 5. A case of extensive skin damage treated with 2-stage grafting procedure using artificial skin.
In conclusion, artificial dermis is a biosynthetically developed material utilized in treatment of extensive burn injuries. Artificial dermis is used as an important treatment strategy in chronic wound such as diabetic foot. With artificial dermis, a relatively simple skin graft procedure can reduce morbidity and provide effective coverage of a wound with worsening inflammatory response and an exposed ligament/bone without resorting to the more complicated flap technique. Application of artificial dermis is rapidly expanding and is being used as an implant scaffold in breast reconstruction. It is also used in various types of plastic surgery for shaping and providing volume in reconstructive surgery of congenital deformity, trauma or cancer with the purpose of reducing further scarring, contracture and deformity.
The technology and simplicity of acellular dermal matrix are expected to continue improving to ultimately enable complete recovery of normal tissues. In my opinion, combination of acellular dermal matrix with adjunct cellular therapy or wound healing factors will become common clinical practice in the near future.
References
❶ Han SK, You HJ: Wound coverage using advanced technology in Korea J Korean Med Assoc 54(6); 594-603, 2011.
❷ Ryssel H, Radu CA, Germann G, Otte M, Gazyakan E: Single -stage Matriderm and skin grafting as an alternative reconstruction in high-voltage injuries. Int Wound J. 7(5): 385-92, 2010.
-To be continued-
▶ Next Artlcle : #14-1. Understanding and Application of Epidermal Growth Factors