▶ Previous Artlcle: #8-2. Er:YAG Laser
Indications of Er:YAG laser are similar to those of CO2 laser. In terms of medical treatments covered by insurance, Er:YAG laser is usually used to remove warts, pointed warts, corns, fibromas, pyogenic granuloma, etc. or to create an entrance before eliminating the sebum of epidermal cyst from the body or draining pus from an abscess.
From the cosmetic perspective, Er:YAG laser is highly effective in removing moles, liver spot, freckle, lentigines, skin tags, flat warts, sebaceous hyperplasia, syriongoma, xanthomas, milia, trichofolliculoma, trichoepithelioma, steatocystoma multiplex, etc.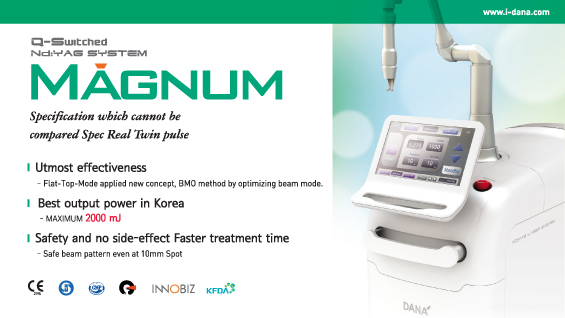 [Advertisement] MAGNUM(Q-switched Nd:YAG Laser) – Manufacturer: (www.i-dana.com)]
Its great effectiveness is also shown in improving pores, scars, wrinkles, skin elasticity, skin texture, skin color, skin tone, etc. using fractional hand piece. In addition, Er:YAG laser enables superficial laser peeling, for which recovery period is very short, using low fluence(1.5 J/cm2) big spot size(14mm), and it is also often used to improve vaginal atrophy, remove tattoos, and engage in laser deep peeling.
On the other hand, patients with unrealistic expectations of laser procedure, patients with keloid, patients who use isotretinoin within 6 months, patients with burn scar, and patients with scleroderma are advised to avoid Er:YAG laser like other lasers.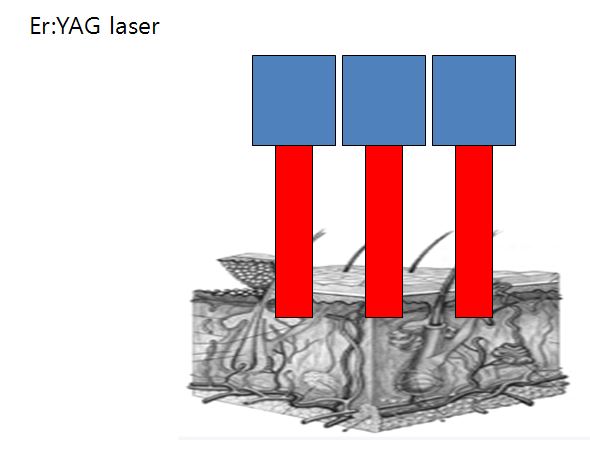 Figure 1. Er:YAG Laser.
Post-procedural treatment methods may usually vary depending on lesion size, depth, etc., but it is well recommended to use hydrogel dressings or often apply regenerative cream. Post-procedural complications include temporary burning sensation, swelling, bleeding, and pruritus, but these can be improved through general at-home care.
-To be continued