Sonophoresis are developed to enhance the treatment effect of drugs by increasing transdermal absorption. The most common frequency and intensity used are 1-3 MHz and 0-2 W/cm2, respectively. Although it was a popular facial treatment during the 80s and 90s, the enhancement of trans-epidermal absorption was not as good as previously expected, some even less than 10 folds, which made its application in clinical settings less effective. Some other similar treatments like iontophoresis or electroporation are also gradually replaced by mesotherapy or vital injector (水光槍). Mesotherapy treatment uses a very fine needle with extremely small amount of drug injected into the mesoderm tissue (i.e. dermis), making these agents easily absorbed. Vital Injector is a non-invasive intradermal injecting device using a syringe, and maximizes the treatment effect and shortens the procedure time by adopting 5 multi-needles at the same time. It is originated from Korea, and is more and more popular in Taiwan and China.
Lasers and Light Devices
Since the introduction of Lasers in the 90s, various Laser devices are now in Taiwan. The continuous wave ablative CO2 Laser first appeared on the market. The Erbium-YAG (Er-YAG) Laser soon replaced the CO2 Laser and became the dominant machine due to its high water absorption coefficient and few thermal injuries. Different skin conditions like nevus, solar lentigines, skin tags, seborrheic keratosis, and pitted acne scar were treated with Er-YAG Laser during this period. On the other hand, the Alexandrite Laser and Ruby Laser were introduced to treat various hyperpigmented lesions like freckles, solar lentigines, Ota's nevus, melasma, nevus zygomaticus, cosmetic tattoo, and post-inflammatory hyperpigmentation, etc. Because of the high cost and maintenance fee, the Ruby Laser was soon replaced by Nd-YAG Laser. Moreover, the soft peel Laser treatment protocol from Korea and Laser toning introduced from Thailand boosted the market of Nd-YAG Laser.
The concept of using sub-optimal energy with multiple passes to treat hyperpigmented lesions, pore size or melasma to avoid complications was accepted quickly in the past decades. Similar to the Nd-YAG Laser, the Intense pulsed light (IPL) also gained its popularity due to the concept of "Lunch Beauty Makeover" (午休美容). People can have their IPL treatments for facial pigmented spots, fine wrinkles, and pore size during lunch breaks. These procedures almost dominated the whole cosmetic medical field even the TV shopping channels sold these treatments without regulation from the government. This is also the reason why the market price goes down quickly in Taiwan. Although the effect is mild and superficial, the long term results of repetitive Nd-YAG Laser beams may cause some serious complications like whitening spots or mottled hyper- or hypo-pigmentation. The "Zebra lines" caused by IPL due to over exposure to high energy sometimes occurred, especially by physicians from other specialties without adequate trainings, like ENT, OB/GYN, or Pediatricians, etc.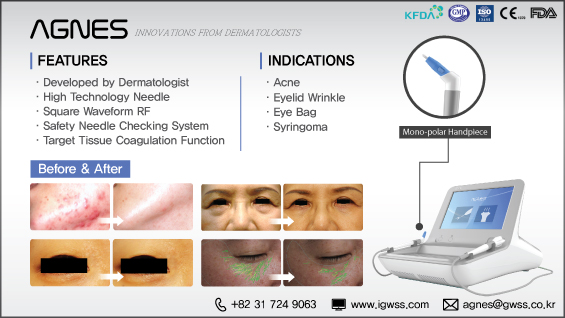 [Advertisement] AGNES(Radio Frequency) – Manufacturer: (www.igwss.com)
In recent 5 years, the fractional Lasers, including ablative and non-ablative, are the new generation devices. Fractional photothermolysis uses an array of small Laser beams to create many microscopic areas of thermal necrosis within the skin, called microscopic treatment zones (MTZs). It is now the most popular treatment for acne scar in Taiwan. On the other hand, the new development of picosecond Lasers recently brings the treatment of pigment to another brand new field. Although initially developed for treatment of cosmetic tattoo in the western countries, it was soon adopted to treat various hyperpigmented lesions in Taiwan.
There are currently 4 different picosecond Lasers on the Taiwan market, each with various specifications and parameters. It is hard to tell which one is better than another. Picosecond technology combined with the powerful FOCUS Lens Array by Cynosure has shown some impressive results for the treatment of wrinkles, acne scars, and pigmented lesions. It is expected to replace the soft peel Laser or Laser toning soon in the following days.
-To be continued