The global epidemic of obesity has led a great increase in the demand for treatment for obesity. Many patients who are not obese also seek body sculpting procedures to improve their looks. Dr. Cho Doyoun of Gimpo Misogain Dermatology specializes in anti-obesity treatment and body sculpting. These non-invasive treatments can be repeated with little downtime are popular among patients seeking convenient and effective treatment. In this series, Dr. Cho will discuss each treatment modality based on her clinical experiences.
The World Health Organization(WHO) announced that the prevalence of obesity doubled globally in 2008 compared to that of 1980 and 23% of women and 20% of men are obese in Europe.1 The Kroean National Statistical Office conducted the National Health and Nutrition Examination Survey, (NHANES) and found that the prevalence of obesity increased from 25% in 1998 to 31.4% in 2011.2 Obesity is defined by excess body fat and the body mass index (BMI) of at least 30kg/m2 is considered moderate to severe obesity. Obese people are at a higher risk of developing diseases that lead to metabolic disorder.
Today, Koreans of all ages require some degree of weight control due to lack of physical activity in teens and imbalanced diet in people in their 20s and 30s. Poor lifestyle choices such as a high calorie, high fat diet, overeating and lack of exercise, etc. have driven up the rate of obesity. Images of slim male and female celebrities shown in mass media drive people to yearn for weight reduction.
Physical appearance has increasingly become an important factor that determines one's success in social relationships and career. The prevalent focus on one's appearance has led some people to see themselves as more overweight than they actually are. About 60.4% of women in their 20s and 25.9% of women in their 30s think themselves overweight or obese despite their normal weight.3
As shown by such results, one can expect more people to seek obesity treatments including body sculpting. However, body sculpting differs from other anti-obesity treatments. Obesity is a medical condition that can lead to chronic diseases such as hypertension, diabetes, and heart disease, etc. and requires treatment. However, many people who are not obese still choose to receive body sculpting and skin tightening procedures to improve their looks. More and more people are seeking these procedures not from medical needs but from an aesthetical point of view.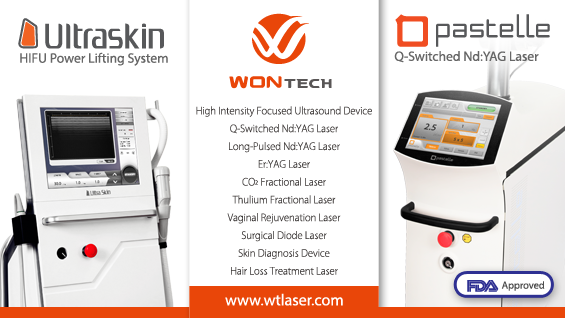 [Advertisement] Ultra Skin/Pastelle – Manufacturer: WONTECH(www.wtlaser.com)
Body sculpting procedures do help patients with moderate obesity to go off hypotensive agents or bring their blood sugar down in some cases. Some patients try the procedure for aesthetic purposes but experience reduction in abdominal fat as well as weight loss. Despite these benefits, body sculpting is not a treatment of obesity. As many women who are not obese visit obesity clinics to get the prescription for anti-obesity medication to slim down further, it is important to make the distinction between body sculpting and obesity treatment. I hope body sculpting becomes an area separate from obesity treatment in the future.
-To be continued
References
1. Available at: http://www.census.gov/population/projections/data/national/np-d1.html. Accessed April 20, 2015.
2. Available at: http://www.kostat.go.kr. Accessed April 20, 2015.
3. Recognition of obesity and attitude toward weight control in different age groups Korean J. Food & Nutr. Vol. 22. No. 1, 110-112 (2009)