Patients who do not desire a drastic change are best treated with IPL. IPL is popular in Japan as it is known to remove pigmented lesions and improve elasticity. In Japan, devices that emit IPL and RF simultaneously are also being used.
When Fraxel (laser developed based on the theory of fractional photothermolysis) was introduced in Japan in 2004, it became a popular rejuvenation therapy that does not cause serious downtime other than erythema. Similar devices including Affirm and Lux1540, as well as the Korean device of Mosaic were also introduced in Japan. In addition, the invasive CO₂ laser came to be used in wrinkles. Recently, many Korean laser devices are being introduced in Japan.
However, the new devices are not as widely distributed in Japan as in other countries because the Japanese people are averse to any pain or downtime associated with wrinkle removal or rejuvenation treatments. Contrarily, this also means that the market has potential for slow but further growth.
Fractional laser and FMLP (focused multiple laser beams) also started being used in wrinkle removal. Alma Laser's fractional laser device, Clear Lift, has been reported to be effective in removing wrinkles and lifting sagging skin. However, it is not available in Japan yet. The FMLB device which was developed in Japan, focuses laser beams only in the dermis to limit the thermal damage. However, the device needs more clinical evidence. Its sales have been limited to Japan and the clinical evidence is available from only Japanese patients. Since last year, cases of this treatment have been reported in other countries and I believe extensive data will be made available in Korea as well.
The wrinkle removing effects of Nd:YAG laser devices that deliver thermal action to the dermis will be assessed by various institutions. RF is also thought to be effective in fine wrinkles but RF treatments are generally used for improving the overall texture rather than local wrinkles.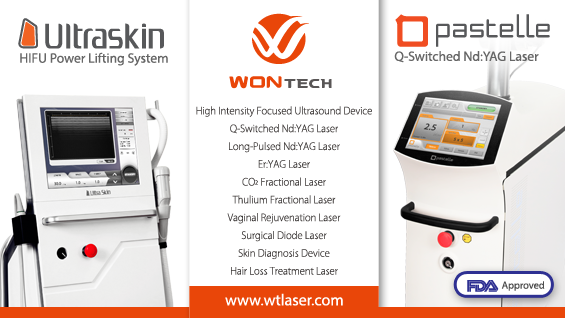 [Advertisement] Ultra Skin/Pastelle – Manufacturer: WONTECH(www.wtlaser.com)
Smooth Liner is a Korean RF device that uses an insulated cannula that is inserted into the skin to induce thermal change from within. This new device was introduced in Japan. In my personal experience, I was able to obtain favorable results with this device in local wrinkles including the forehead lines. This treatment is highly efficacious, however, causes edema and subcutaneous bleeding due to its invasiveness. Extensive and clear clinical evidence of the benefit will be needed for Smooth Liner to be accepted in Japan.
Ulthera, a HIFU device, has introduced a new 1.5mm transducer for wrinkle removal. However, the device is not popular in Japan as the effect is only temporary and it occasionally causes swelling.
A popular therapy for wrinkle removal is electroporation. An electroporation device is used to create micro punctures to allow permeation of various beneficial substances in the skin. The procedure is suitable for Japanese people as they prefer mild and subtle changes.
-To be continued