In theory, this treatment can reduce adipocytes without pain but has low efficacy in reality. I use this device for slimming procedures. Devices of this category tend to have better efficacy when combined with exercise and controlled diet. In other words, one will not be able to achieve slimming effects without any exercise or lowered caloric intake.
Many other devices also produce continuous radiofrequency. The fact that there are many devices that combine RF with other functions (suction, massage, etc.) indicates that RF alone is not sufficient to bring satisfactory results. On the other hand, new devices use very high RF energy to thermally destroy local fat tissues. Trusculpt locally irradiates RF to maintain the subcutaneous temperature at 45℃ and induces fat loss. Doctors who have used it say the effects are quite drastic but cases of burning have been reported.
Vanquish is a new non-contact RF device. It is said to be effective and convenient as it does not require changing parameters after the initial setting. However, it is still unclear whether the thermal action is limited to subcutaneous fat. Also, complications involving overheated fascia have been reported in Japan. Once good safety and efficacy profiles are established, I believe this device will become very popular in the near future.
Ultrasound slimming devices such as Ultrashape and Liposonix, etc. are also being introduced. These devices are not as widely distributed in Japan as could be due to unstable distribution routes. The sales and distribution strategy, as well as its efficacy will shape its place in the market in the future.
Devices of this category focus ultrasound energy to destroy fat tissues, much like the light energy is focused through an optical lens. Its action could arise from HIFU, cavitation, or difference in frequencies, but the device targets a small area of fat tissue and moves the area of irradiation. It was found to have destroyed fat layers in some cases, but generally it is effective in small, limited areas. The risk of complications rises when used in extensive areas and caution is advised with usage and parameter setting. Some innovative devices target fat in three layers to enhance the outcome.
Currently, the most popular device for slimming in Japan is CoolSculpting by Zeltiq which freezes and destroys fat tissues with low temperatures. CoolSculpting selectively freezes subcutaneous fat using the different freezing temperatures of fat and water. The concept of this treatment developed from the phenomena that horse-riding women in cold regions have thin legs and children who frequently eat popsicles have thin cheeks (Weber-Christian syndrome). The target area is suctioned and cooled continuously for an hour at the temperature of 4℃. The applicator (suction cup) is thought to leave the deeper tissues undamaged. In fact, the fat tissues feel frozen immediately after the treatment.
Visible changes occur months after the treatment, however, CoolScupting is my primary choice for sliming procedures because it is by far the most effective among all devices I have used. A major disadvantage of this method is that it can be applied in limited areas as the one cannot obtain desired effects without using the suction. A new applicator that freezes without suction has been introduced but it is more time-consuming and less effective than the suction.
With most of these devices, fat tissues are not lost immediately but gradually decrease after treatment. Sudden destruction of fat tissues would result in severe pain, necrosis and inflammation. A better way to induce local fat loss is degradation and gradual metabolic absorption of cells. Some call this apoptotic loss of cells but personally, I think it is rather, apoptosis-like cell death.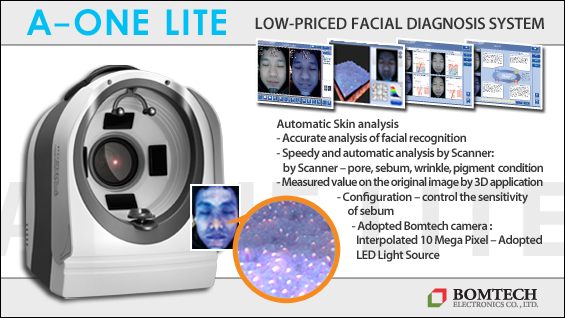 [Advertisement] A-One LITE(Facial Diagnosys System) – Manufacturer: BOMTECH(www.bomtech.net)
As discussed above, local slimming devices are moderately effective and the effect is localized. They are not sufficient to bring an overall slimmed down figure that so many people desire. As with RF or ultrasound devices used in lifting, high expectations will inevitably lead to disappointment with the results.
As it took a long time for lifting devices to be popularized, slimming devices will also take a long time and a lot of marketing to be more widely recognized. In Japan, the beauty salons are slowly losing the public's trust. Skepticism about aggressive advertisements and less than satisfactory outcome of the procedure have caused a widespread mistrust of these salons. The concept of body sculpting is often confused with dieting and weight loss. In this reality, the medical institutions of Japan have much work to do to educate the public.
-To be continued