Review of a CaHA filler study
I have provided the following review of the study titled 'A Randomized, Split-Face, Histomorphologic Study Comparing a Volumetric Calcium Hydroxylapatite and a Hyaluronic Acid-Based Dermal Filler' published in September 2014.
Background: Volume enhancement using dermal filler injections in areas of age-related soft tissue volume loss is an aesthetic procedure.
Objective: To compare post-treatment neocollagenesis and elastin between Juvéderm VOLUMA (HA filler) and Radiesse (CaHA, Pharmaceuticals GmbH, Mertz).
Method: Twenty-four female patients age 35~45 years participated in this split-face study. The filler was injected in the supraperiostal plane in the posterior auricular area of the ipsilateral or contralateral side. Punch biopsy and collagen analysis were carried out 4 and 9 months after injection. Samples were analyzed using collagen I and III, elastin Ki-67, inflammatory and vascular markers.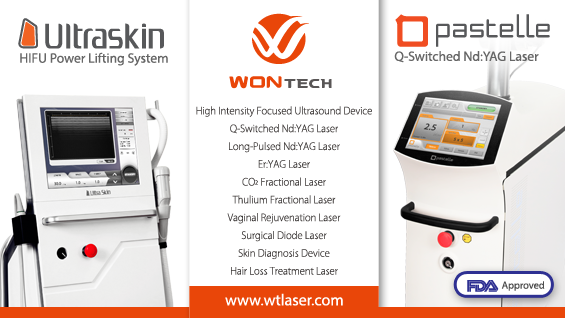 [Advertisement] Ultra Skin/Pastelle – Manufacturer: WONTECH(www.wtlaser.com)
Results: At 4 months, collagen III was higher in CaHA group compared to HA (P = 0.0052). At 9 months, staining assay showed that collagen I was higher in CaHA group compared to HA (P = 0.0135). At 4 and 9 months, CaHA had higher elastin Ki-67 and angiogenesis. Inflammatory markers increased in most HA treatments.
Conclusion: CaHA participates in two phases to promote gradual replacement of collagen III with collagen I more actively than extracellular matrix remodeling.
CaHA did not cause inflammation in the first 9 months after treatment. CaHA has better dermal filler properties compared to HA.
As discussed in the review, CaHA can be injected in the moderate to deep subdermal layer or supraperiotal plane for volume enhancement in face shaping treatment. Using its property of continuously promoting collagenesis and elastin formation may bring optimal effect. CaHA fillers may be particularly useful in correcting nasolabial fold, marionette lines, oral commissure, pre-jowl, sulcus, malar and submalar area, etc. An experienced doctor using safe techniques in a carefully selected patient can bring excellent results. .
-To be continued-