In this article, we will take a look at the latest topic of interest among aesthetic clinicians and the academia. We will discuss theories behind PDRN (polydeoxyribonucleotide) and PN (polynucleotide) and skin cell rejuvenation with Rejuran Healer a new containing PN.
What is PDRN and how does is it help wound healing and tissue regeneration?
PDRN is short for polydeoxyribonucleotide and is a low molecular weight DNA fragment. PDRN is needed in high concentration for tissue formation and cell differentiation and has excellent stability and safety. It selectively activates adenosine A2 receptor. It can be injected or topically administered.
PDRN is known to promote simultaneous generation of collagenic and non-collagenic proteins to help form normal matrix and inhibit scar formation. It promotes differentiation of various cells (stem cells, fibroblasts, osteoblasts and chondrocytes, etc.) and improves microcirculation through inducing VEGF expression. PDRN has an anti-inflammatory action (A2A receptor mediation; particularly effective in inhibiting proinflammatory cytokines). It also has thrombolytic effect and promotes release of various growth factors.
The newly released Rejuran Healer is a prefilled syringe solution with the active ingredient of PN. PN is a long chain polynucleotides gel and is a longer fragment of DNA than PDRN. PN is extracted from salmon which has base composition very similar to that of humans. It has high thermal stability and is not species specific or antigenic.
One noticeable aspect of PN is that its actions include those of PDRN. PN is a longer DNA fragment than PDRN and works as a tissue scaffold. Over time, it is severed in smaller fragments by certain enzymes to be used in the salvage pathway. Severed DNA fragments carry out the actions of PDRN and promote differentiation of various cells involved in tissue regeneration.
Rejuran Healer is a new skin healing agent containing the active ingredient of PN and has the following effects.
Rejuran Healer satisfies many conditions of a regenerative treatment.
It strengthens the inner skin and improves skin elasticity, resulting in youthful and healthy skin.

It geretates VEGF – Reorganizes micro environment for damaged skin.

It increases the number of fibroblasts and promotes release of protein – Collagenesis.

It revitalizes the skin by regenerating and healing extracellular matrix.

It does not cause immune response as it consists of DNA fragment (molecular structure).

Downtime is less than 24 hours and patients can return to daily activities immediately.
Key concepts of published clinical data on Rejuran Healer is summarized as below.
Skin normalization
Rejuran Healer normalizes skin components to vitalize and fill the skin and thickens the dermis. Healthy and thickened epidermis strengthens the skin barrier.
Improved elasticity
When elastin decreases and tissues start sagging due to aging or reduced elasticity, Rejuran Healer can fill the skin from within to improve elasticity.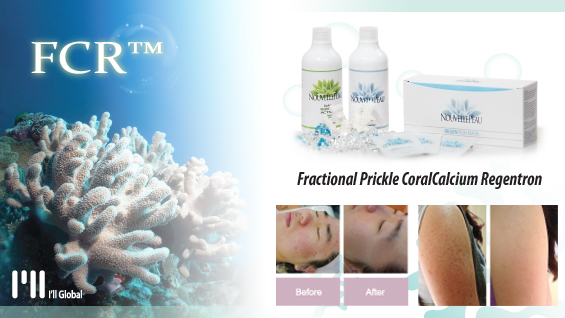 [Advertisement] FCR® (Fractional Prickle CoralCalcium Regentron) – Manufacturer: (www.illglobal.com)]
by Ahn Donghyun
-To be continued-