Two of the most common procedures performed in aesthetic plastic surgery and dermatology are dermal filler and botulinum toxin injections. These procedures provide simple and quick methods of wrinkle removal or volume enhancement. However, the side effects of injectable dermal fillers have created a society-wide controversy. Dr. Choi Moonsup of Grace Aesthetic Surgery is an expert of minimally invasive plastic surgery, or petit plastic surgery, and shares with us his knowhow on botulinum toxin injection, advantage and disadvantages as well as tips on safe use.
In 1969, Dow Corning introduced silicone gel which opened an era of active use of dermal fillers. However, this left many patients with serious side effects such as inflamed lumps or siliconoma, etc. The quality of filler materials continued to improve while various materials including collagen entered the market and the bad ones were withdrawn. Currently, hyaluronic acid (HA) fillers have a definite lead in the market. Science related to safety, fat purification as well as injection techniques have seen much advancement.
Autologous fat injection has developed alongside injectable dermal fillers to the extent that stem cell fat graft is used with good safety and efficacy profiles. However as the number of patients choosing fat and filler injection for the purpose of aesthetic improvement has increased exponentially, new problems have surfaced (as the word 'filler' refers to subcutaneous injection of filler materials, I will use it to refer to both dermal filler and fat injection).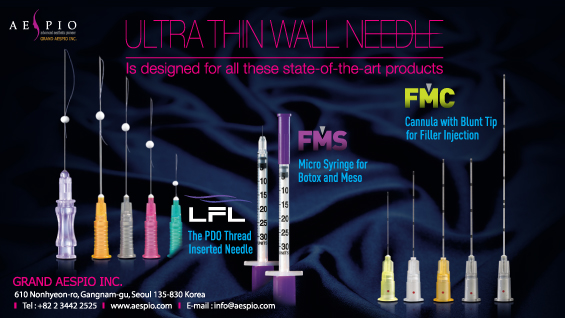 [Advertisement] ULTRA THIN WALL NEEDLE – Manufacturer: AESPIO(www.aespio.com)
Typing in 'injection' and 'blindness' on Pubmed, an American search database for published medical studies and citations, shows cases of side effects related to injection going back to the 1950s. Intravenous injection of pure cod liver oil or liquid soap led to vision loss or miscarriage for unknown reasons. In 1955, vision loss occurred following injection of acetylcholine. In 1966, stroke occurred after fat injection and in 1968, vision loss followed an anesthetic injection in the nasal mucosa. Many drugs with long safe use have caused blindness in some cases and recently, injectable dermal fillers are accused of causing blindness. What may be the reason?
-To be continued-