▶ Previous Artlcle: http://1-1-picocare-klaus-fritz
What is the first impression of PICOCARE and its merits for the user
It is a very good device. There are many options available with various handpieces and wavelength. The very stable pulse duration is also a big advantage.
I think the fact that it provides excellent services, as well as a reasonable price, is an attractive point of PICOCARE of WON TECH Co., Ltd.
What is the most demanding procedure in the field
There are many procedures for lesions such as age spots, tattoos, nail fungus, and liver spots. These are common skin conditions in Caucasians.
PICOCARE can be used for numerous indications and parameters, which is especially very effective for tattoos or nail fungus, as shown in the following photos.
What should be most cautious during the procedures using the Picosecond Laser
Though there may be individual standards, it is recommended to set the fluence lower than usual setting.
Although the Picosecond Laser shows a safe outcome, it is very important to reduce the risk of side effects such as PIH, which may occasionally occur. If the user carefully adjusts the fluence, he/she can perform the procedure more effectively than the Nanosecond Laser.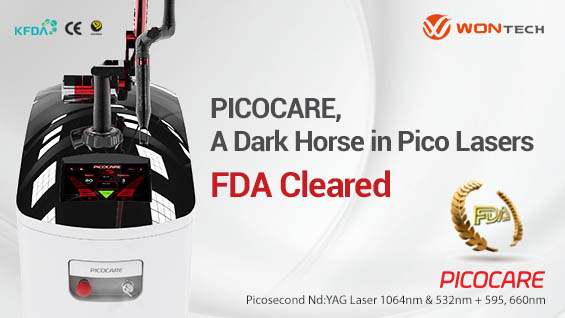 [Advertisement] PICOCARE - Manufacturer: WONTECH(www.wtlaser.com)]
Not just in Picosecond Laser procedures, it is most important to get excellent outcomes with good medical services.
In order to achieve this, several rules are followed, which include constant research and effort, appropriate treatment intensity to minimize side effects, and no exaggeration or lie to the patient.
If you are hesitant to adopt the Picosecond Laser yet, what is the reason
The adoption of Picosecond Laser is a new challenge for aesthetic medicine specialists. It is because they do not feel the need for a device that costs more than the laser they usually use.
There is a lack of confidence that using the Picosecond Laser can yield better outcomes. I believe that as more people are satisfied with the outcomes, the credibility on the device in the aesthetic medicine market will be increased.
- To be continued