State-of-the-art cleansing action completely removes waste from the skin
Cleansing is very important in dermatologic procedures such as laser resurfacing, etc. Especially, leaving this process to patients may often result in insufficient cleansing. Residual waste materials in the skin serve as chromophores and may cause burns. Therefore, thorough cleansing is a very important step before treatment.
Cleansing is important not only in laser treatment but in our daily life as well. If waste is not cleared away completely, it can cause acne by covering the follicles. Make-up products such as eye-shadow or eyeliner can remain and cause dark pigmentation under the eyes.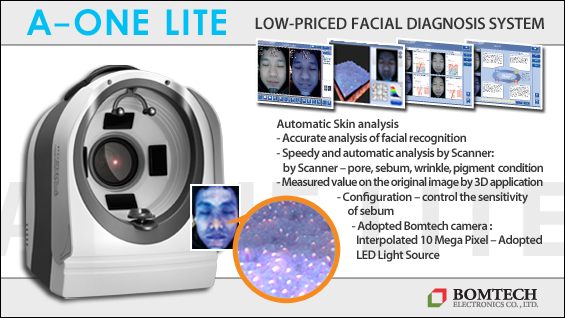 [Advertisement] A-One LITE(Facial Diagnosys System) – Manufacturer: BOMTECH(www.bomtech.net)
Purecle Dr. is an effective cleansing device that emits ultrasound waves to completely remove waste, excess oil and residual make-up products through vibration. In other words, powerful pressure and vibration from ultrasound waves clear away the waste and excess keratin from the inside and outside of the skin. This is possible due to the patented 3-circle design of the cleansing head (Image). Delivery of triple 3-D ultrasound brings deep cleansing as well as massaging effect.
This is not the first time cleansing technology with ultrasound was used in aesthetic procedures. However, previous devices had a small area of contact with the skin and could not maintain a consistent contact angle. Also, the very thin blade carried the risk of scarring or damaging the skin when applied in the wrong angle or with excess force. Purecle Dr. provides a new safer method of effective cleansing.
Potential anti-wrinkle effect
The usage is very easy and the beautician can use it with only a very simple tutorial. Turn on the power and select from 1(low level) or 2(high level) level. Follow the texture of the skin drawing smooth circles on the skin surface with the head. The cleansing time should not exceed 5 minutes and the device turns itself off after 5 minutes.
Gross examination before and after cleansing revealed noticeable removal of waste materials and black head. Some patients say their skin feels more elastic after cleansing. I selected a few patients and performed Purecle Dr. on only half of the face. Patients found the cleansed side to be more elastic than the other side.
Purecle Dr. has potential benefit of improving wrinkles by combining deep cleansing and compression massages. The skin tone is also noticeably lighter after cleansing.
Purecle Dr. combines 'Purecle cleansing gel' and 'Purecle black head remover'. The black head remover should be applied about a minute after applying the cleansing gel solution. The solution is effective in only small amounts and patients can use it as often as they want without worrying too much about the cost. Purecle Dr. is waterproof and can be easily maintained by separating and washing the head.
In conclusion, indications of Purecle Dr. include black head, white head, excess sebum, pores, keratin and skin tone improvement. The added massaging effect makes Purecle Dr. a useful and versatile device in the care room.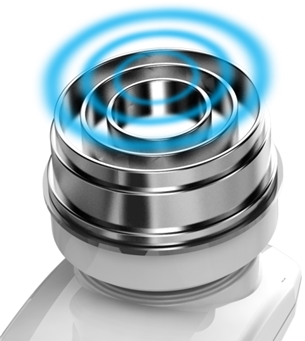 Fig 1. Patented 3-circle head and direction of ultrasound emission.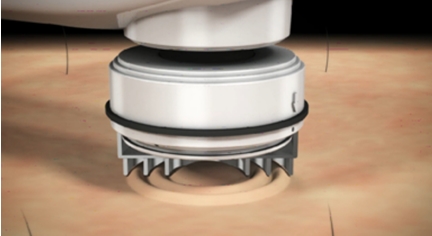 Fig 2. Each wing resonates individually to provide powerful vibration along the skin texture. The powerful compression delivered into the skin this way removes waste materials and keratin.
by Dr. Lee Yongwhan(Eunpyung Woo&Hann's Skin Clinic)
-The End-