New website for AGNES training
Gowoonsesang Cosmetic presents a new website for training AGNES usage; www.doctorahn.com.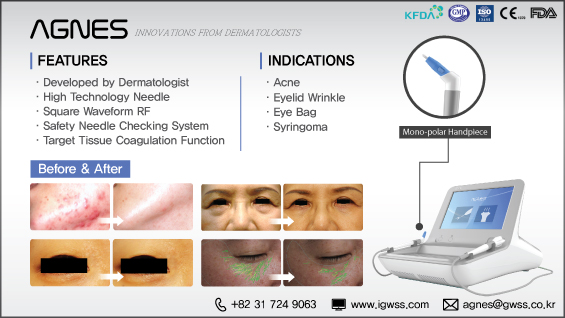 [Advertisement] AGNES(Radio Frequency) – Manufacturer: (www.igwss.com)
AGNES is an innovative treatment of acne that is recognized for its excellent efficacy by doctors in Korea and abroad. The website also provides protocols for its newly added uses in conditions that have so far been difficult to treat with previous modalities such as syringoma, eye area wrinkles, and non-invasive under-eye fat removal, etc.
Users of AGNES have been able to learn more about usage through academic seminars held in Korea and abroad, however, the website removes the geographic and time constraints by providing videos of treatment techniques that users can access at their convenience.
The website will share various treatment techniques of AGNES as well as enable users to get answers directly from Dr. Gun-young Ahn, a dermatologist and developer of AGNES.