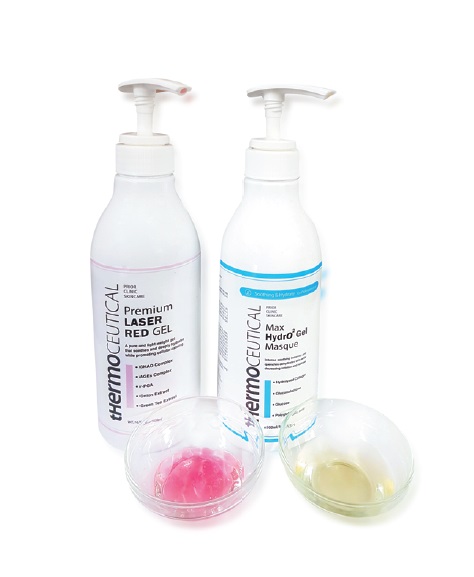 Product Overview
In aesthetic treatments, post treatment care can be an important factor affecting the treatment outcome. Especially, laser or peeling procedures with thermal and drying effects make the skin vulnerable to irritants in cosmetic products, seriously compromising the treatment outcome. On the other hand, correctly applied post treatment care can even lower the likelihood of side effects and may be an integral part of the overall skin care program. I would like to recommend two post treatment care products that I have used with excellent outcomes.
After ablative laser with a high risk of burn and dryness
Fractional laser is the most frequently used modality for acne scar removal. After about 30 minutes of therapy, the skin suffers overheating and swelling. Immediately after laser therapy, it is crucial to minimize moisture loss and gradually lower the skin's temperature. Applying an ice pack or modeling rubber mask as soothing care after fractional laser therapy does not hydrate the skin sufficiently. MAX HYDRO O2 GEL MASK consists of macromolecule glucose, hydro collagen, gluconolactone (PHA) and natural moisturizing factor r-PGA as the main ingredients. It does not get absorbed into the skin but forms a thin protective film over the skin and prevents loss of moisture from the thermal effect of laser therapy. MAX HYDRO O2 GEL MASK is particularly suitable for therapies causing heating, scarring and crusting. It does not contain chemical preservatives, nor infiltrate into the skin to cause any irritation. Those who want a stronger cooling effect for quicker dehydration can keep the mask in the refrigerator for a pleasant cooling sensation.
PREMIUM LASER RED GEL with potent antioxidant actions of prickly pear and açai berry extracts
Experiencing allergic reactions from low quality post treatment care products makes you more careful about choosing the right skin care products. PREMIUM LASER RED GEL uses prickly pear extract with potent soothing and antioxidant actions as the base solution. It also contains açai berry and onion extracts which promote regeneration. PREMIUM LASER RED GEL is an absorbable gel mask and can be used with cryotherapy after laser toning, IPL or scaling therapies for superior efficacy. It can also be used as an excellent regenerative care one week after fractional laser, MTS, or chemical peel.
The benefits of an aesthetic treatment can be drastically enhanced and completed by correctly applied post treatment soothing care. These two go hand in hand to bring the desired outcome. Effective and correct usage of post treatment care can reduce the risk of side effects and restore the skin's natural vitality.
Article/Jung Sodam(Chicago Clinic)