The Lecture of the Month' series introduces famous talks in the field of dermatology and plastic surgery in Korea. It provides a detailed look at the lecture our readers may have wanted to attend but could not due to restrictions of time, etc. With this series, D&PS provides our readers a chance to enjoy important lectures anytime and anywhere.
If you have lectures that you would like to learn about, please let us know. We will deliver the details of the lecture through our magazine. The lecturer featured in the June issue is Dr. Dong-hyun Ahn from Daeyoung Plastic Surgery Clinic. Below is the summary of the lecture and live surgery given to Japanese doctors on April 30, 2014 at his practice.

Hello! I am Dr. Ahn, Director of Daeyoung Plastic Surgery Clinic. I am very happy to be able to provide this lecture to our Japanese colleagues. I will focus on practical issues in surgical techniques in the hope that you will find this lecture helpful and worth your trip.
Today's topic is Smooth Liner, a lifting device manufactured by DANIL SMC. I will also cover the usage and clinical outcomes of Smooth Liner and demonstrate a simple fat removal procedure of under eye fat in the Live Surgery session. I hope you find your time spent here beneficial.
Features of Smooth Liner
The key feature of Smooth Liner is that it uses the patented heart-shaped RF cannula. The heart-shaped RF cannula is useful in incisions and subcisions. Smooth Liner is a device specialized for the nasolabial lines, creases in the forehead, eyes and neck, as well as acne scar and striae distensae.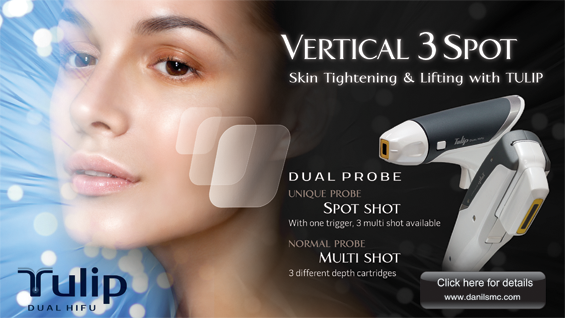 [Advertisement] Tulip(Skin Tightening & Lifting) – Manufacturer: DANIL SMC(www.danilsmc.com)
This unique cannula is the reason I use this device often. The sharp tip of the cannula is effective for dissecting tough scars. With the heart-shaped cannula, one does not have to avoid fibrous septa and fibrotic band in wrinkle removal. It can also be supplemented with filler, thread, PRP, and HA injection.
Smooth Liner has low risk of burn and is especially beneficial in treatment of hardened, thick scar tissues. When treating tough scars, other types of needles carry the risk of bending or failure to penetrate. However, Smooth Liner can rupture deep fibrous adhesions. I offered many suggestions for improvement to the manufacturer of Smooth Liner. I have requested that they develop blunt, short needles of 30 or 27 gauges for more precise treatment. I heard that new needles have been released accommodating such requests. These new needles allow neck wrinkle removal with Smooth Liner.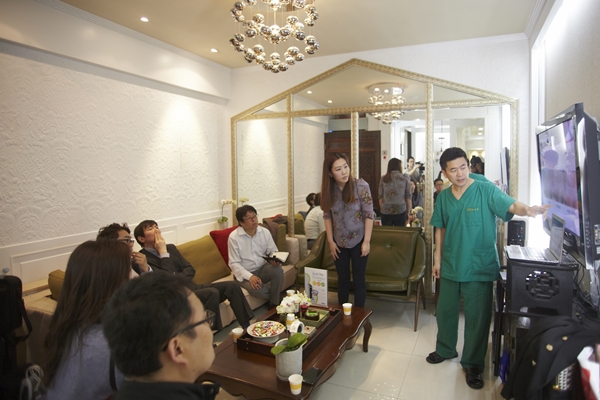 Basic principles of Smooth Liner
The principle of Smooth Liner procedures consists of incision, subcision and creating collagen denaturation range with RF energy, thereby promoting collagen remodeling. Combination with filler, thread or PRP follows the principle of incision, subcision and creating collagen denaturation wall with RF and injecting the material in between.
In detail, the procedure includes the following steps.
⓵ Incision, Subcision
Sites of incision and subcision are the intradermal and subcutaneous layer, respectively. The heart-shaped cannula is very useful in dissecting the intradermal and subcutaneous layers. Disconnecting the fibrotic bands with the cannula can improve wrinkles and rolling scars.
⓶ RF Coagulation
RF energy is used in the coagulation phase. First, the heart shaped cannula is used to make an incision and cut the fibrotic bands. Then, RF energy is used to create collagen denaturation range to enrich collagen and elastin through the ensuing regenerative process.
⓷ In combination procedures, RF energy is used to create a collagen denaturation wall on tunnel walls and supplement is injected. This delays the disintegration and absorption of the injected material and maximizes the scaffolding of the supplement to help collagen remodeling.
-To be continued-
▶ Next Artlcle : [Lecture of the Month] Smooth Liner Procedures and Live Surgery Ⅱ