"Engineer and Clinician Join Forces for Overseas Expansion"
Established in 1998 as a company specializing in Laser, ultrasound, and high frequency medical devices, WONTECH has been known for its heavy investment in R&D and was listed on the Korea New Exchange (KONEX) in 2015. Its aggressive investment in R&D is not a coincidence given the fact that the company was established by an engineer.
CEO Kim Jongwon, a former engineer who majored in electronic engineering, and his company released products made in Korea in the late 1990s when the domestic aesthetics market depended solely on imported products. He is currently working on other countries including China with a new goal of growing the business into a global medical device company, focusing more on export rather than the domestic market.
Yonsei Star Dermatology Clinic, one of the leading hospitals specializing in acne and acne scar treatments, is well known for having doctors who publish as many research articles as those in university hospitals. Over the past 10 years, they have published about 140 articles in domestic and international journals including AAD and EADV. The co-director of the clinic, Kim Younggu, also works as the general affairs director of the Korean Society for Laser Medicine and Surgery (KSLMS), where CEO Kim and Director Kim met each other for the first time. CEO Kim is a special member of the KSLMS.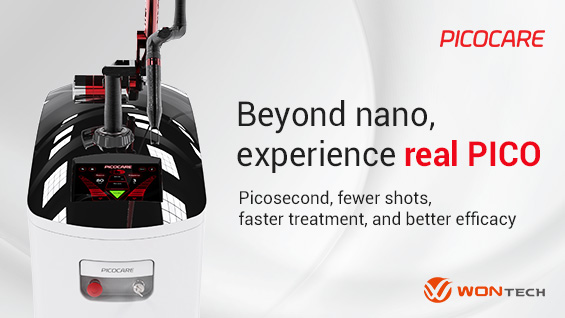 [Advertisement] PICOCARE - Manufacturer: WONTECH(www.wtlaser.com)
Working Together for the Korean Society for Laser Medicine and Surgery(KSLMS)
How did you two become close to each other?
Kim Jongwon: Mr. Kim (YG) is the general affairs director of the KSLMS and we once submitted our Lasers for display at the KSLMS' exhibition as a member company. That's when we first met. But we became closer when I teamed up with him at a golf game sponsored by the KSLMS. He managed to get 3 birdies.
Kim Younggu: Now we meet up and play sports from time to time like a sports club with other board members of the KSLMS. Mr. Kim (JW) really enjoys other sports as well. From what I've heard, he never skips stretching for an hour at six every morning, no matter how late he went to bed the previous day. I really respect him for that.
Kim Jongwon: Mr. Kim (YG) is a good sportsman and a well-mannered person. Anyone who has ever met him cannot help but like him.
-To be continued