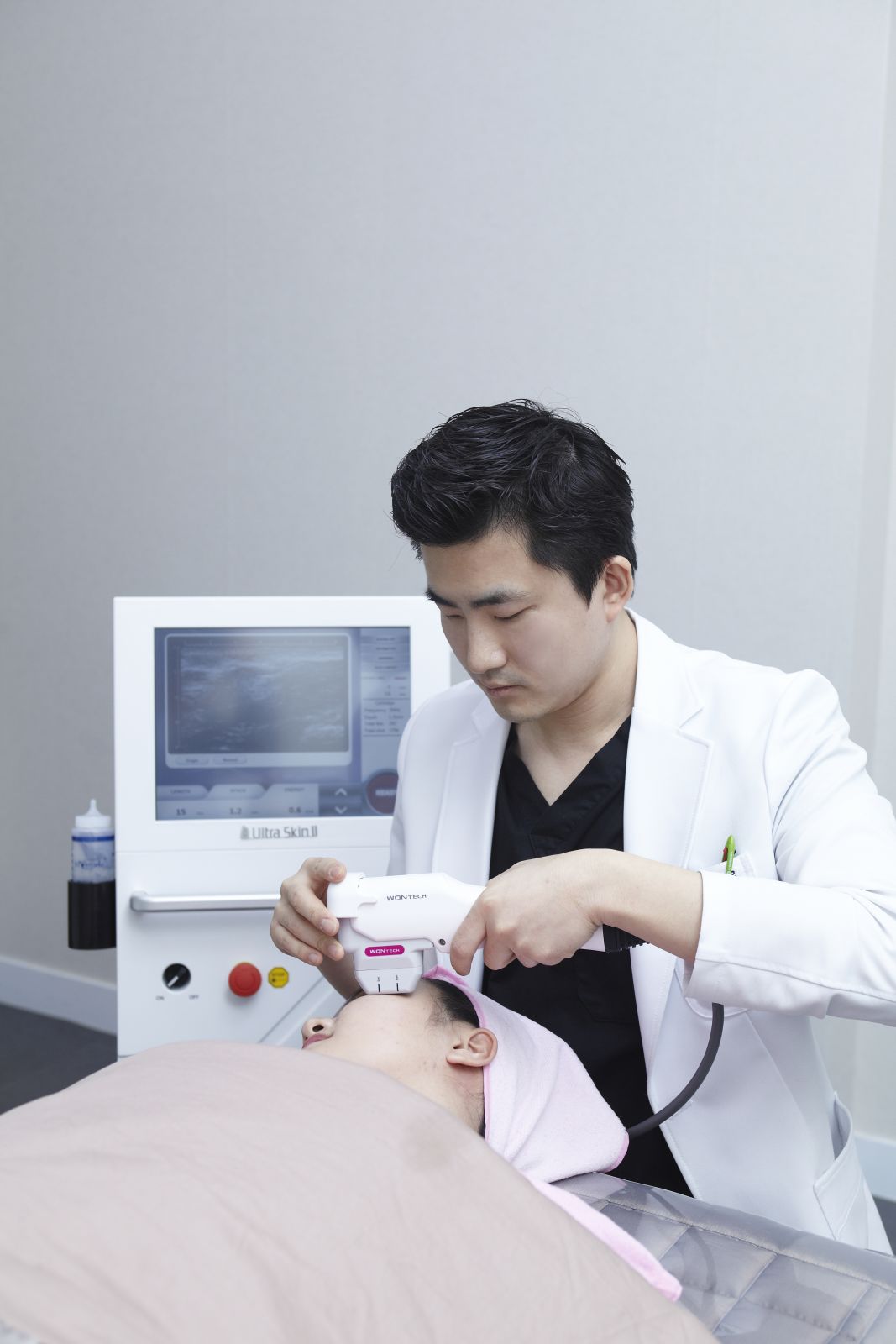 Skinda Dermatology Clinic has various energy-based devices, one of which is UltraSkin, a HIFU device developed by Wontech. UltraSkin selectively delivers HIFU energy to the dermis and SMAS for lifting and tightening effects.
D&PS: What are your criteria for choosing an energy-based device for your practice?
Dr. Lee: Even before I started my own practice, I knew that a HIFU device was essential to any aesthetic clinician. As I like being able to choose from different modalities to customize the treatment, I try to have at least one of every commonly used aesthetic device out there. But as I run a small private practice, I had to be highly selective in choosing the right device. I have decided on UltraSkin after considering various HIFU devices in the market. One has to consider various characteristics of HIFU including the beam quality and irradiation method, etc. which are different from Laser. In my opinion, as HIFU uses a relatively simple energy generating mechanism, the difference in technical integrity would be shown in terms of the ability to focus the heat energy, degree of heat generation, and consistent depth of delivery, etc. However, I found little difference between devices after testing them in various treatments. Therefore, it comes down to the cost and convenience when choosing the right device. I also tried to find a device that will generate profit for a small practice while delivering satisfying results.
D&PS: Can you tell us about the specifications of the device?
Dr. Lee: UltraSkin emits rapid shots. The manufacturer-recommended 300 shots are not sufficient for the desired outcome, and I sometimes increase to 1,000 shots. Rapid shots mean the treatment duration can be shortened. This is a great benefit as it allows me to treat more patients in a limited time in the one-doctor office. UltraSkin's tips are affordable and one tip emits 15,000 shots. I often use the tip specialized for under-eye treatment. The device has many practical advantages.
D&PS: In your opinion, how could UtraSkin be improved?
Dr. Lee: As for the technical aspect, I hope Wontech can improve the inconsistent energy levels of handpieces. For this, each handpiece should be calibrated and regularly adjusted and maintained. This could raise the price of a Nd:YAG Laser to over KRW 300 million(about USD 260,000). I think the manufacturer may have downgraded the handpieces for this impracticality. It would be ideal if the user can adjust the energy level of each tip but this requires a lot of experience. It would increase convenience greatly, if this could be done automatically. I would also like to see the product design to improve in the future. However, the suboptimal product design may show that Wontech focuses more of the technical reliability rather than marketing.
D&PS: Tell us about how you use the device.
Dr. Lee: It is difficult to bring a noticeable lift only with HIFU. HIFU should be mainly used for lipolysis of the face and neck and facial skin tightening through thermal change. However, combining HIFU with radiofrequency(RF) or needle RF, which are directly indicated for skin tightening, can drastically improve the outcome. HIFU can effectively remove undesired lumps under the chin after local liposuction of this area.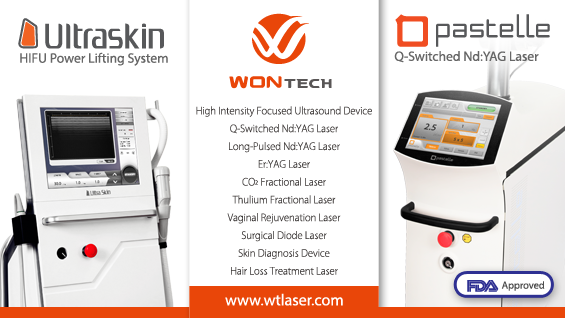 [Advertisement] Ultra Skin/Pastelle – Manufacturer: WONTECH(www.wtlaser.com)
D&PS: Do you have plans to purchase other devices?
Dr. Lee: I am currently going through a product trial of an ultrasound device. I used to think that if I can satisfy 8 out of 10 patients with the new device, it is a success. But I now feel that I still need to offer something else to the other two patients. I am looking for a different energy source or modality for this small proportion of patients with poor response. I am leaning towards drug delivery systems and LDM. As I narrow down my expertise in the future, I may not need many devices but I still need a lot of time and experience. And in the meantime, I continue to look for devices that will help increase patient satisfaction.
Article/ Shin Yunae Photographs/ Kim Younggil