Dr. Sung-jae Yoonof Apgujeong Leaders Dermatology– Discovery Pico
How did you decide to purchase a picosecond laser?
It was not an easy decision to purchase a picosecond laser. First, it was very costly; it cost anywhere from twice to five times more than the Q-switched laser. During the trial phase, I saw that the picosecond laser was definitely superior to the Q-switched laser in tatoo removal, but that was not a reason enough to make such a big purchase. It had to replace laser toning but I was not convinced of its unique benefits. I eventually made the purchase because I definitely felt the trend was going toward the picosecond laser. And now I am very satisfied with the new device. Among the devices that I added to my practice last year, I am the happiest with the picosecond laser.
In clinical setting, the picosecond laser is superior to the Q-switched laser, but the superiority is not drastic. It seems to be more effective in clearing melasma. It is particularly effective in improving the skin tone; the skin feels smoother and appears rejuvenated. This was not seen with the previous laser toning treatments. Many patients say their skin feels smoother and clearer and their pores have improved. This was an unexpected benefit as I thought it would be the most effective in removing pigments. Patients who are highly satisfied with the picosecond laser recommend it totheir friends. In a Taiwanese study, the picosecond laser was also effective in scar removal. From the business perspective, the picosecond laser is more profitable as the treatment can be priced higher than Q-switched laser treatments. Based on these reasons, I think it was a good decision to purchase the picosecond laser.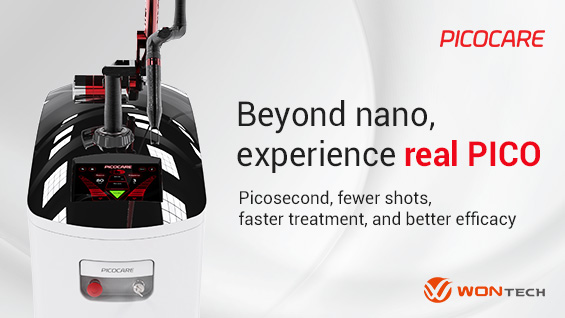 [Advertisement] PICOCARE - Manufacturer: WONTECH(www.wtlaser.com)
Why did you choose Discovery Pico?
To be honest, Discovery Pico does not have much of brand recognition. However, looking at the specifications, it had the highest output among all picosecond lasers and the 450ps was closer to the true picosecond range. I listend to the opinions of my colleagues in other offices of Leaders Dermatology. Especially, I was impressed with the distributor, Imec[HJP1] . I have not had to request maintennance yet but the excellent maintenance/repair services was another reason I chose Discovery Pico.
I was impressed that the the532nm wavelength was produced only at0.1J. This wavelength is strong enough to cause crusting. When used less aggressively, this wavelength selectively acts on melanincytes and causes slight darkening of the skin that resolves naturally over a week. This means that it causes micro-crusting that naturally and quickly disappears to leave the skin clearer. This is a unique benefit of Discovery Pico that is not found with other picosecond lasers. The532nm wavelength has limited application. Caution is needed as the treatment is ineffective at a slightly lower output and causes side effects at slightly higher output. I do not recommend it in patients with melasma or those prone to hyperpigmentation. In such cases, I combine Discovery Pico with traditional laser toning. Due to the low number of clinical cases, I have not experienced side effects yet but I feel that the low energy level is definitely safer. I have not seen any case of hyper- or hypopigmentation in the past ten months I have been using Discovery Pico.
Mechanisms of scar treatment and pore reduction
It is my guess that the picosecond laser has superior depth compared to other lasers and performs a sort of subcision. That is, thin and powerful light energy is delivered in greater vertical depth in a very short window of time. The Q-switched laser primarily targeted pigments but the picosecond laser tackles both pigment removal and dermal stimulation.
Treatment protocol
The treatment protocol continues to evolve. I believe it would take another 3-5 years for the protocol to be established. This would also require a greater number of users to try out diverse treatment techniques. Another benefit of Discovery Pico is that there are many opportunities for Korean doctors to exchange information with their colleagues around the world. I expect the right treatment protocol will be established soon through such exchanges.
What Discovery Pico should improve
The handpiece should be improved for better convenience of use. I hear that an update is going to be released soon.
Advice to those considering Discovery Pico
I think many of my colleagues are hesitant about purchasing a picoseond laser as it does not seem to differ too much from the traditional laser toning and they are already quite happy with the Q-switched laser. As someone who has clinical experience using Discovery Pico, I highly recommend making the purchase due to its unique benefits. It is definitely worth the high costbut it takes a whilte for one to realize its true value. Most importantly, I get much better feedback from the patients. It will be a good investment in the long run.
-To be continued-
[Advertisement] PICOCARE - Manufacturer: WONTECH(www.wtlaser.com)