In our All-for-Skin Dermatology Clinic in Daegu, the most frequently used lasers are Ulthera, SOLARI (LUTRONIC) and HEALITE II (LUTRONIC). Ulthera is gaining much attention as the latest procedure, and SOLARI is a laser of square pulsed technology, with excellent effects on a variety of indications, including photo rejuvenation, telangiectasis and hair removal. HEALITE II is a light therapy device with excellent effects for postprocedural care, alopecia treatment and stimulation of skin restoration after various injuries. Each laser device has different characteristics and indications, but all three of these lasers are frequently used in clinics for their wide variety of target patients and indications. Although each of them show a sufficient therapeutic effect as a monotherapy, a combination with other devices can maximize the therapeutic effect by mutual supplementation.
Ulthera: effective lifting without incision
I would use MEDIO STAR, GEMINI, Tenor, ReFirme, Derma Shape or E2 for lifting, in combination with a fractional laser, such as STARLUX 1540, Matrixell and ThermoXel, or Accusculpt procedure. Recently, however, I have used Ulthera for patients who want to achieve the effect of face lift surgery without incision. The face lift surgery removes wrinkles by performing incision of sagging skins and then by tightening and suturing the skin again. Mainly the Superficial MusculoAponeurotic System (SMAS), part of muscle layer, is used for skin tightening and removal of wrinkles. Lasers for skin resurfacing (CO2 or Er:YAG laser) extends to the epidermis and upper dermis, and radio frequency or fractional lasers extend only to the dermis, limiting the improvement of skin tightness. On the other hand, Ulthera can penetrate to SMAS layer by focusing high-density ultrasound to one site, resulting in skin lifting effect almost equivalent to face lift surgery.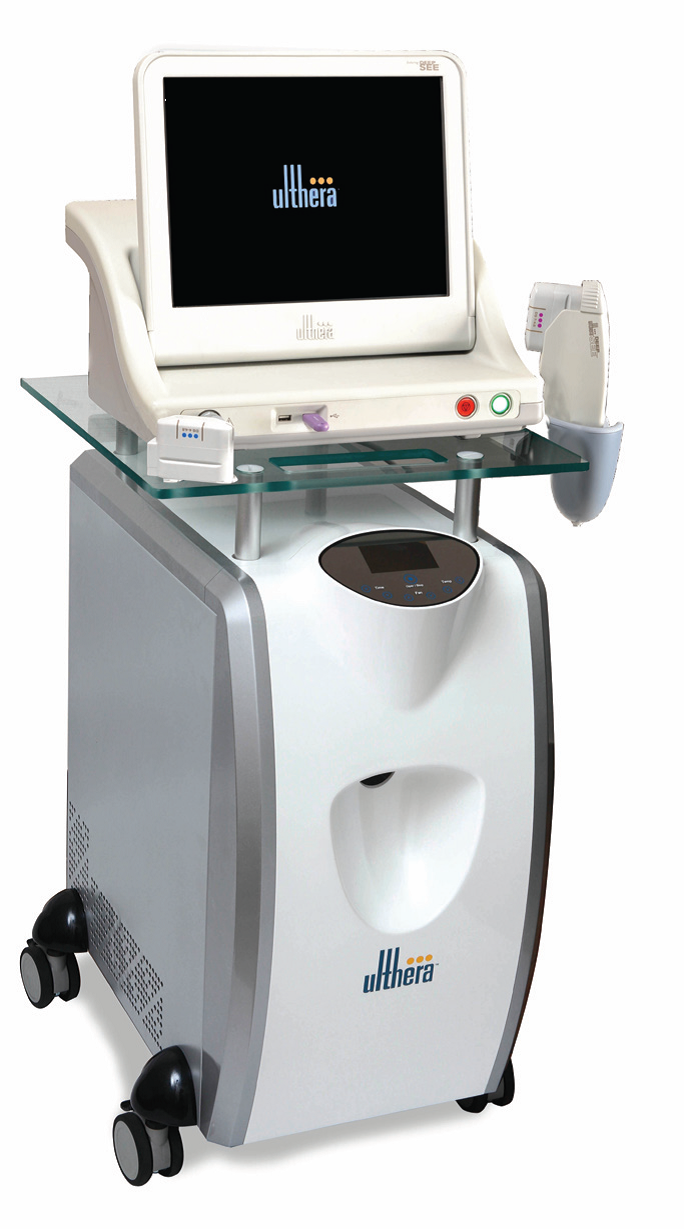 Ulthera
Ulthera may exert different effects depending on the length of exposure line of joule energy transducer, depth (3.0mm vs. 4.5mm) of Thermal Coagulation Point (TCP), presence or absence of surface cooling for reducing pain, and whether 300-400 line was applied for full face procedure. Despite low risk of side effects, focused application as deep as 4.5/3.0mm may cause a temporary numbness lasting for about 1-3 weeks after the procedure, which disappears in most cases. During Ulthera procedure, the SMAS layer is identified by ultrasound of 8-mm depth and then high-density focused ultrasound energy is delivered. This technique allows selective treatment according to the skin thickness, resulting in satisfactory outcomes. Ulthera alone is effective for lifting, but MEDIO STAR, Tenor, COSJET SR, Derma Shape, Acthyderm or Spring may be combined depending on the patient's indication. Instrumental defect is rare but it requires high maintenance cost.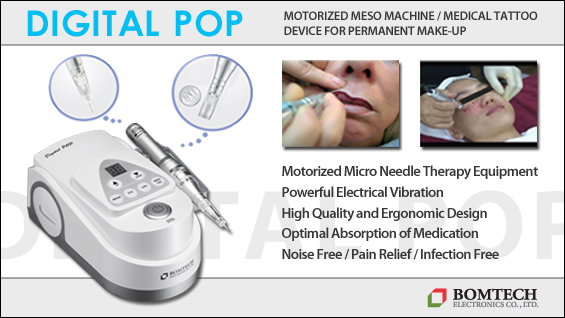 [Advertisement] DIGITAL POP(Motorized Meso Machine/ Medical Tattoo Device For Permanant Make-up) – Manufacturer: BOMTECH(www.bomtech.net)
SOLARI: precise parameter controlling for easier prediction of prognosis
Our clinic has 4 IPL devices, which are STARLUX, MEDILUX, LOVELY and SOLARI. SOLARI, among them, is a laser-like device which can be used like a laser. It is also necessary for accurate procedure per each indication, because it is surpasses well beyond the limit of existing IPLs in terms of filtering of accurate wavelength spectrum, square pulsed technology and the ability to control parameter with predictable precision.
SOLARI
Unlike most IPLs, SOLARI is equipped with square pulsed technology for various indications and accurate therapeutic approach per indication almost similar to lasers. Therefore, it is capable of accurate parameter control with easier prediction of prognosis, and can be used safely even by beginners. 6 different filters are available depending on indications from inflammatory acne to pigmentation, vascular lesion and hair removal and depending on the skin type. For an effective treatment, the operator should consider various parameters, including filter type, pulse width, fluence and skin cooling temperature. Being a device that irradiates an accurate wavelength of light similar to a laser, SOLARI almost does not induce side effects like tiger stripes, which can occur by normal IPL devices. The sapphire tip contact cooling system also plays an important role in protecting the skin surface. Periprocedural or postprocedural skin reaction differs depending on the indication of SOLARI. Telangiectasis tends to appear the blood vessels are removed immediately after the procedure, while pigmentation may become slightly reddened during the procedure or may not even show a response. However, the pigmented lesions become generally brown the day after absorbing the light energy, and general skin tone appears brighter once the scabs fall off. Most blemishes may be removed or blurred by repeat SOLARI but may be completely removed if SOLARI is combined with Accolade or Q-switched Nd:YAG for more selective removal of pigmentation. Lastly, one flaw of SOLARI is the heavy handpiece.
Healite II: greater therapeutic effect and minimized risk of side effects
Rapid recovery is essential to maximize patients' satisfaction. In this regard, HEALITE II is indispensable among dermatologists. Our clinic has 7 LED phototherapy devices; 3 of them are of 635nm wavelength, 1 is 830nm, 1 is 830+590nm, 1 is 5 wavelengths at 41nm and the remaining 1 is 633nm. Each of them has excellent effect for wound healing and can be widely used for skin and alopecia diseases. Minimized downtime after the procedure is also an important advantage. Moreover, unlike a laser therapy, it can be applied to an extensive area at a time and, being a hands-free procedure not requiring 1 on 1 care by a surgeon or a nurse, it is less time-consuming. HEALITE II is equipped with 3 wavelength heads (415nm, 633nm and 830nm); 830nm wavelength is particularly effective for wound healing and can minimize the occurrence or duration of side effects, such as erythema or swelling, when applied immediately after a laser therapy or a cosmetic surgery. When applied to other body parts, HEALITE II is effective for joint or muscle pain and can be helpful for reducing fat volume when applied immediately after the injection of HPL or PPC for lipolysis.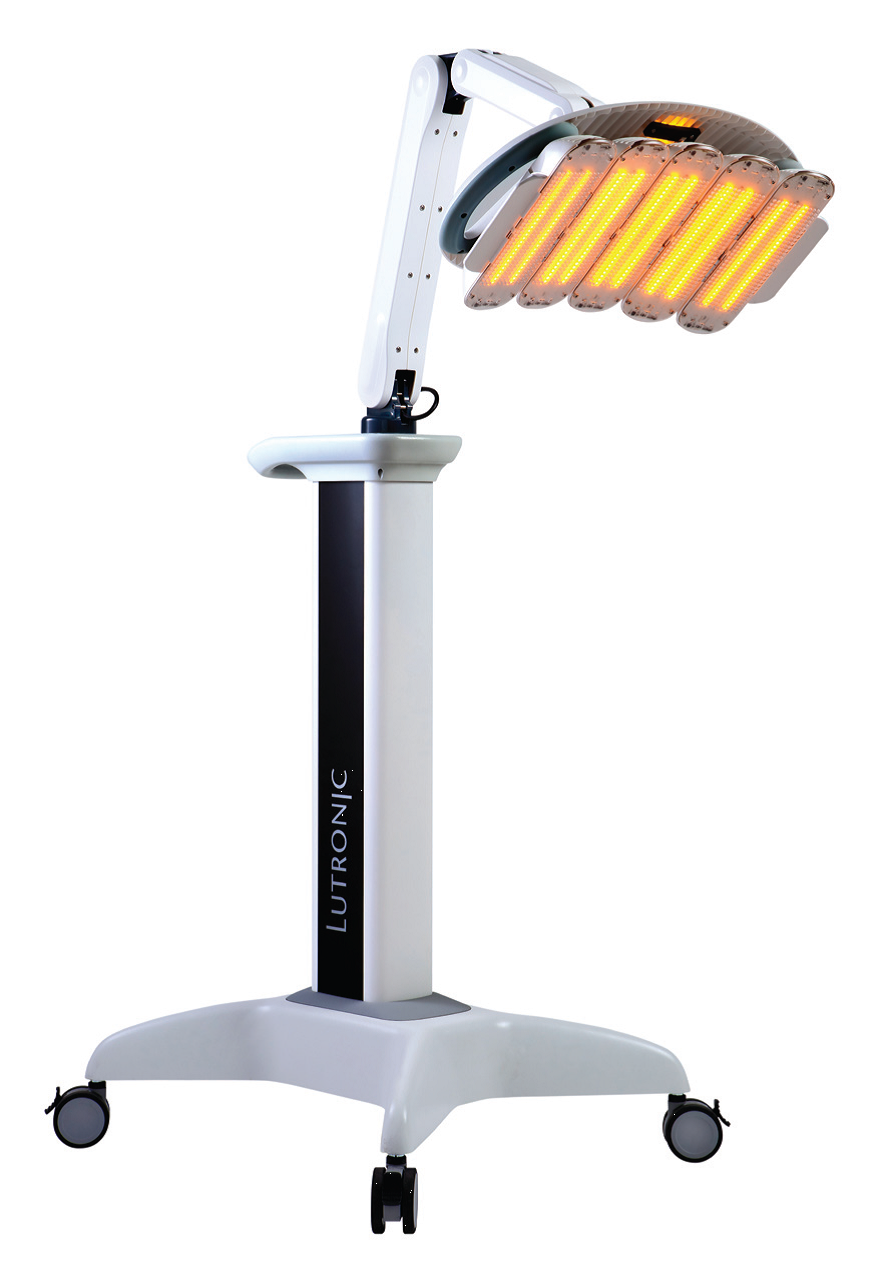 HEALITE II
Being an LED phototherapy device, HEALITE II is a gentle instrument that rarely induces skin injury during the therapy. It rather minimizes the risk of side effects when combined with a laser or skin care therapy. Patient satisfaction may differ depending on how HEALITE II is used. Combination therapy, rather than a monotherapy, is recommended, because repeated phototherapy twice a week may provide excellent improvements in skin tone and smoothness but not as dramatic as a laser therapy. Thus, a combination therapy is required to meet the patient's expectations. When a laser therapy is hesitated due to the long recover period, despite the dramatic effect, phototherapy immediately after the laser therapy can achieve both therapeutic effect and minimized risk of side effects. A combination of a variety of lasers with a phototherapy device can result in not 1+1=2 but 3, 4 or even stronger synergistic effect. HEALITE II is also applicable to minimize downtime and maximize rejuvenation after an ablative or non-ablative laser therapy or in combination as a general scalp care for patients with alopecia. It is also expected to exert regeneration and stimulation of hair implantation after hair transplantation. When HEALITE II 830nm is combined with a laser toning program for the treatment of chloasma, common inflammatory response can be minimized, reducing the possibility of recurrence. Mixture of chloasmata and blemishes is generally observed in women in their 30-40s. With more upgrades for micro-tuning such as time control, HEALITE II will become a better device.
SOLARI and HEALITE II are manufactured by LUTRONIC. As a user of other devices by LUTRONIC, I seldom experienced the need for a customer service and the company also provides standard service checks by visiting. Their rapid response upon the occurrence of a problem is also quite satisfactory for users.