▶ Previous Artlcle: Combination Treatment with Long-pulsed 755‧1064 Laser and Pico 1064‧532 Laser Ⅰ
That is attributed to the soaring temperature caused by the encounter between proton and water, resulting in explosion.
CO₂ Laser has lower absorbance, compared to Er:YAG Laser, and as a result, the coagulation zone following the ablation is widened, allowing the bleeding to be controlled.
By contrast, the Er:YAG Laser has extremely high absorbance, which results in contraction of coagulation zone to an extreme degree.
In order to prevent this drawback, Er: YAG Laser has emerged which can make up for shortcomings of coagulation by adjusting the Pulse Duration up to 1ms which is longer than 250us.
The second method involves the application of photo-thermal effect. The chromophore, on which photon acts, is different from the target to be actually treated.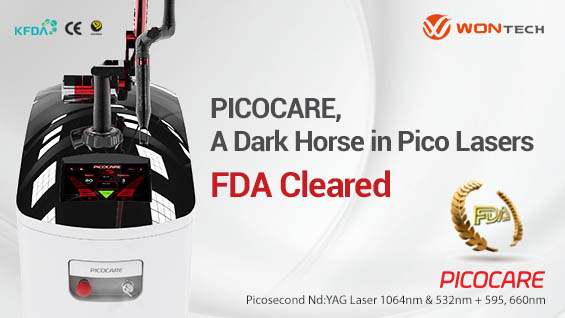 [Advertisement] PICOCARE - Manufacturer: WONTECH(www.wtlaser.com)]
In the case of epilation, for instance, the target is a stem cell in the dermal papilla, but the portion where the laser photon is absorbed is the melanin of hair shaft.
Heat is generated after melanin absorbed the photon. Then, the propagated heat destroys the stem cells, resulting in epilation. The same applies to the pigments.
Long-pulsed lasers or IPL does not break the melanocyte itself. Melanin absorbs the photon, causing the heat to denature the protein in the surrounding area.
When lentigines are treated with IPL, the denaturated scabs are formed only in the site where the density of melanosome is high, rather than being formed around all pigment areas, unlike the case where Q-switched laser is used.
Direct microscopic examination of scabs will show the well-formed melanosomes. The denaturated tissue cannot remain on the skin, and therefore turns over and peels off.
- To be continued