The Skin Care Room at an aesthetic clinic is an important space where post-treatment care is provided. Throughout their treatment program, patients spend the majority of their time in this room. Therefore, the doctor and beautician should have efficient communications with each other to identify patient's skin care needs and train the employees to best satisfy them. D&PS met with doctors and the head beauticians who are famous for running a successful Skin Care Room with innovative service.
Dr, Choi Gyuwon and Ms. Lee Geumju of Busan Noblesse Plastic Surgery and Dermatology Clinic
Better Skin Care Service with Scientific Diagnosis and Treatment
Busan Noblesse Plastic Surgery and Dermatology Clinic is famous for being popular among Korean patients as well as those from across the world. Dr. Choi Gyuwon of Noblesse Plastic Surgery and Dermatology Clinic opened a stem cell center that provides specialized dermatologic diagnosis and treatment.
"There are a growing number of aesthetic spas and many of them offer skin care programs that are more affordable than those offered at dermatologist offices. Some of my patients also go to these spas while they are getting treatment from me. However, they tend to return to the more expensive programs at my practice because they want more precise diagnosis and treatment. We differentiate our services by providing innovative and accurate medical diagnosis and treatment."
Busan Noblesse Plastic Surgery and Dermatology Clinic offers scientific diagnosis and treatment at their stem cell center which opened last June.
- Dr, Choi Gyuwon and Ms. Lee Geumju of Busan Noblesse Plastic Surgery and Dermatology Clinic
Dr. Choi and Ms. Lee first closely analyze the patient's skin type at the first consultation.
"Aesthetic salons tend to categorize the skin into three general types; oily, dry and combination. But we categorize into 16 different skin types and recommend a customized treatment that is most suitable for the skin type. Skin care programs are selected from old programs that have proven outcome, rather than developed from scratch. Programs are 4, 8, or 12 weeks long and we recommend the most ideal duration of skin care for the patient's individual conditions. Our most popular skin care program is the J Program which uses the proprietary solution developed by our dermatologist. The J Program can be used for whitening, soothing, and post-treatment care to normalize and rejuvenate cells. It follows three simple steps; application of the solution, sealed pack, and low level laser therapy (LLLT)."
Lately, we use the stem cell culture solution in many of our treatments. It helps to maximize the benefit of laser therapy and reduce side effects.
"Laser can cause unexpected side effects. During laser hair removal, the light energy can be absorbed by surrounding areas and cause blisters and folliculitis. Topical application of stem cell culture solution lowers the risk of side effects and shortens the downtime. However, we practice caution in applying stem cell therapy as it currently faces many regulatory hurdles in Korea."
Maximizing Therapeutic Benefit through Continuous Adjustments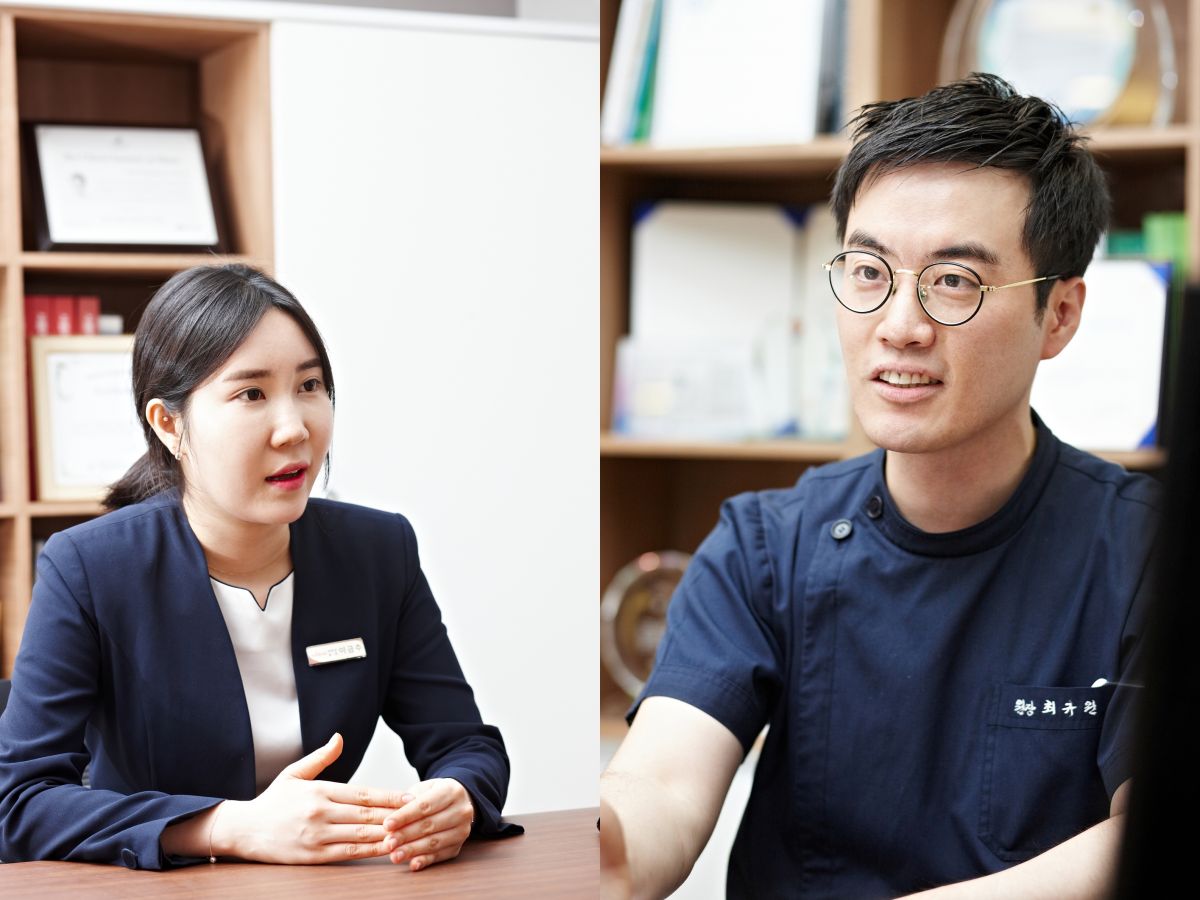 At initial consultation, the patient is categorized using 16 different skin types before recommending the treatment program that suits his/her skin.
- Dr, Choi Gyuwon and Ms. Lee Geumju of Busan Noblesse Plastic Surgery and Dermatology Clinic
Individual patient conditions can change the outcome of even the most effective treatment. Carrying out the same treatment in patients with identical symptomatology can result in different outcomes even after one treatment. This is where Ms. Lee plays an important role.
"After treatment and post-treatment care, we closely check the patient's response and improvement to inform the doctor before the next treatment. Patients also make many requests to their beautician during skin care procedures and it is important to communicate those requests to the doctor."
They also make sure to understand which treatments and procedures patients prefer. Recently, the trend favors outcomes that appear most natural. Ms. Lee explains such trends greatly impact which products they select.
"Patients expect drastic improvements just from skin care products without resorting to medical treatments. This is why we are interested in medicinal cosmetics, particularly, those with lifting effects. We receive many samples from various manufacturers. We are very selective about which products to use at our Skin Care Room and test the product for a long period of time on ourselves. We only make a purchase when the desired effect is confirmed. Dermatologists should be selective about which products to offer to patients. We try to abstain from introducing new products that are popular for the time but rather, stick to old products with a proven track record."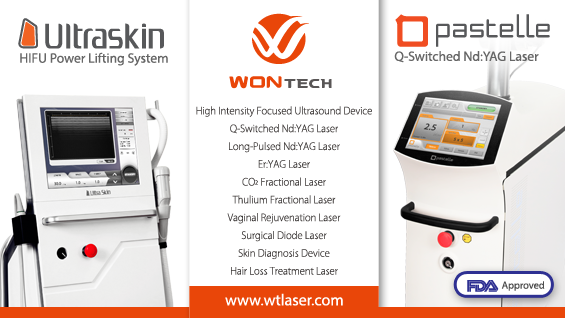 [Advertisement] Ultra Skin/Pastelle – Manufacturer: WONTECH(www.wtlaser.com)
Dr. Choi takes employee training very seriously as he sees it helps improve the quality of service provided to patients. He advises employees himself, rather than invite a lecturer.
"When a patient pays for a treatment, he/she is paying for the treatment as well as good customer service. I emphasize the important of good customer service to my employees. I monitor beauticians in the Skin Care Room and individually advise them on how they can improve their service. When they seem to be in a rush because there are too many patients, I remind them to slow down and focus on each patient."
-To be continued