Dr. Hong Wongyu & Ms. Han Jiwon of Cheongra Human Dermatology Clinic
"The doctor provides skin care treatment himself to form a trusting relationship with patients."
It has only been two years since the opening of Cheongra Human Dermatology but its Skin Care Room of is always fully booked. It is more difficult to make an appointment for a skin care treatment rather than laser therapy. This is due to a unique skin care service provided by Dr. Hong Wongyu of Human Dermatology.
"Cheongra International City is a bit of a commuter town. Patients here will not choose high-cost skin care programs offered by popular dermatologists in the ritziest areas of Seoul. Rather, they prefer affordable options. Therefore, I avoided a high-end decorations and tried to create a more approachable image for our Skin Care Room. I thought the Skin Care Room at a dermatologist's office needed to differentiate itself from an aesthetic spa where no medical specialists are present. As medical skin care is provided along the continuum of a treatment, I personally select all devices and peeling products and design the care program for each patient. I am fully involved in all processes from customer service to employee training."
Beauticians may not like it when the doctor is directly involved in the running of the skin care programs. However, Ms. Han Jiwon, the Head Beautician of Cheongra Human Dermatology says this has many benefits. Some of the employees are not always happy with the idea of the doctor monitoring them but most are happy about learning new aspects of skin care from the doctor.
"Patients are definitely happier. With a dermatologist present in the Skin Care Room, the patients are more trusting of the treatments provided. The doctor checks on each patient and provides skin care procedures himself and this creates the image of professionalism and personalized care in the eyes of the patients."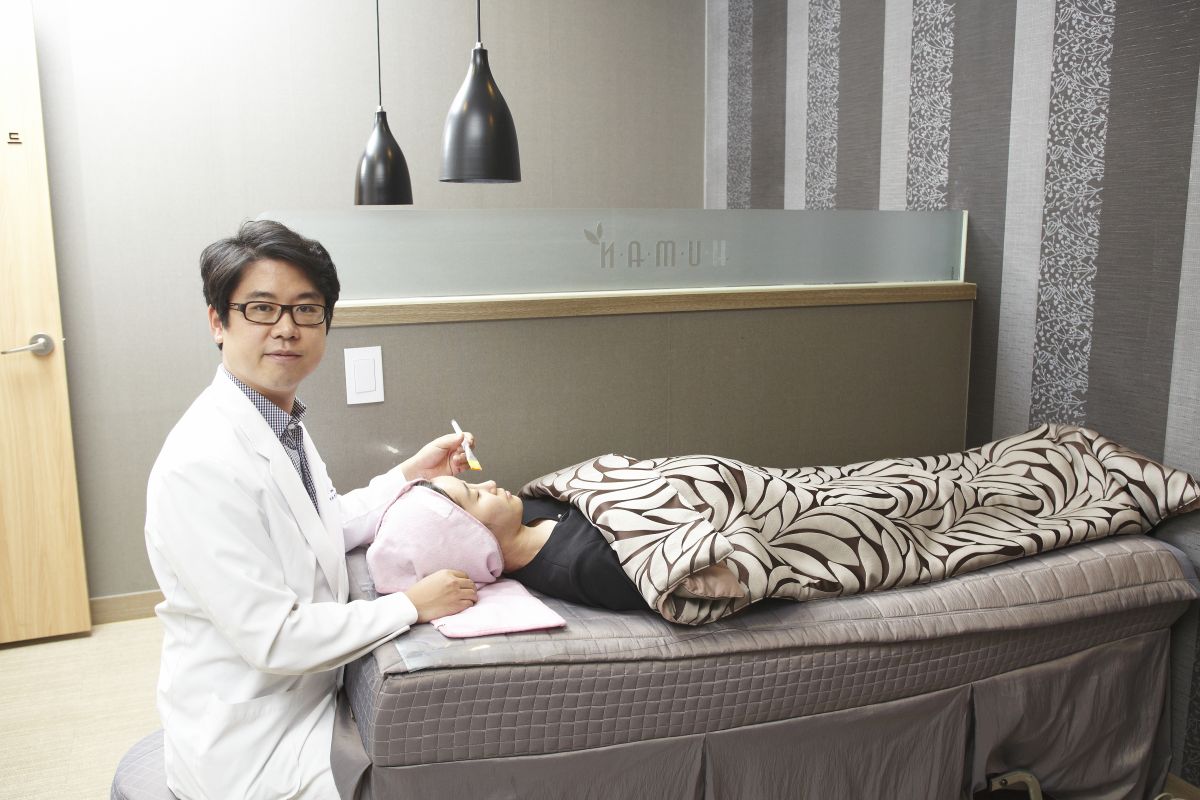 The doctor spends a lot of time at the Skin Care Room interacting with the patients. The Skin Care Room is an ideal place to market the services and promotions as well as recommend next treatments patients may be interested in.
- Dr. Hong Wongyu & Ms. Han Jiwon of Cheongra Human Dermatology
Dr. Hong spends a lot of time in the Skin Care Room because he thinks it's the best place to market his dermatologic practice. Patients generally stay for over an hour in this room receiving post-treatment care. This is an ideal time for informing the patients of various treatment programs offered.
"Spending a whole hour with a patient is a very important opportunity. The patient returns after a week for the follow-up. If patients finds something they do not like in the Skin Care Room, they will not return. The Skin Care Room is at the very forefront of wining over the patient."
Ms. Han agrees with Dr. Hong.
"I talk to my patients a lot in the Skin Care Room. We talk about skin care routines, treatments and even family. I always jot down what the patient say about the treatment in the chart. And use the chart later to recommend a treatment that the patient may want. For example, I recommend whitening or regenerative treatment after an acne program, as pigmentation or scars often remain after acne treatments."
The Skin Care Room Is an Ideal Place for Marketing Your Service.
We have programmed our devices differently from other aesthetic clinics. We purchased high-end machines with proven efficacy as with laser devices we use in the treatment room.
"The devices we use in the Skin Care Room include Environ Ionzyme, LDM from Germany, and Dermiocare Negative Ion, etc. These devices enable us to provide a customized treatment with varying programs. I thought cosmetics alone would not help us differentiate ourselves from competition and decided to offer the best skin care technology to the patients."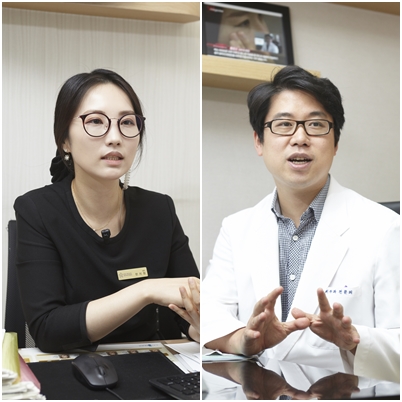 As we provide medical skin care that is different from that offered at aesthetic spas, the doctor selects skin care devices and peeling agents himself. Ms. Han, the Head Beautician, finds this particularly helpful as she can learn important aspects of treatment from the doctor.
- Dr. Hong Wongyu & Ms. Han Jiwon of Cheongra Human Dermatology
Cheongra Human Dermatology's skin care programs include acne sensitivity program, whitening program and hydration/soothing program. Ms. Han says, among these the whitening program is the most popular.
"The most important aspect of the whitening program is effectively delivering vitamins to the skin. For this, ionzyme, ion peeling, iontophoresis, and regenerative facial, etc. are used."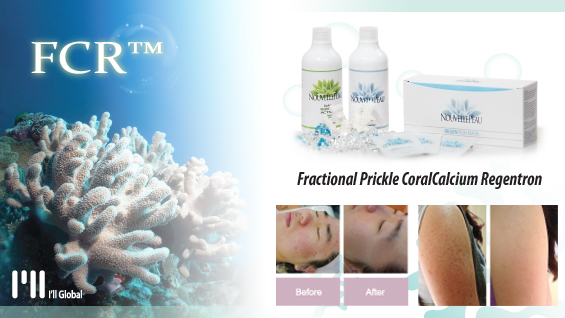 [Advertisement] FCR® (Fractional Prickle CoralCalcium Regentron) – Manufacturer: (www.illglobal.com)]
Finally, another winning strategy of Cheongra Human Dermatology is that they hire a sufficient number of beauticians to provide a quick personalized service even when there is a large influx of patients. This enables them to provide quality service while lowering the workload of each beautician and preventing employee turnover.
"We are always hiring more beauticans than we need. Interestingly, the more beauticians we hire, the more patients we get. So far, no employees sit idle and I don't have to worry about the cost of hiring new employees. Employee training programs are organized according to the number of years worked at my practice. When a new beautician is hired, she spends the first month training and observing. Then, she can perform whitening procedures and move on to acne procedures after more training."
-To be continued