Dr. Gu Soyeon and Ms. Choi Eunmi of Cheongdam Dongan Center
"Better outcome and patient satisfaction with customized service"
All patients visiting Cheongdam Dongan Center are treated like VIPs. Everything from treatment to skin care programs is fully customized for each patient. This is why Dongan Center boasts a large number of fiercely loyal customers. Dr. Gu Soyeon of Dongan Center focuses on reducing complaints and increasing patient satisfaction through customized medical service. This starts with the first consultation.
"A new patient coming to my practice first meets with Ms. Choi Eunmi, our Manager, for the primary consultation, then meets with both Ms. Choi and me for the secondary consultation. This can give the patient positive first impression and help us gain important details about the patient, including medical history, allergic reactions, and keloid prone skin, etc. Patient information collected during consultation is meticulously recorded in the chart. If a patient complains about a treatment she received on a certain date, the doctor, beautician, or manager can quickly address it looking at the chart. Making the patients feel important by providing highly personalized care is crucial for minimizing patient dissatisfaction."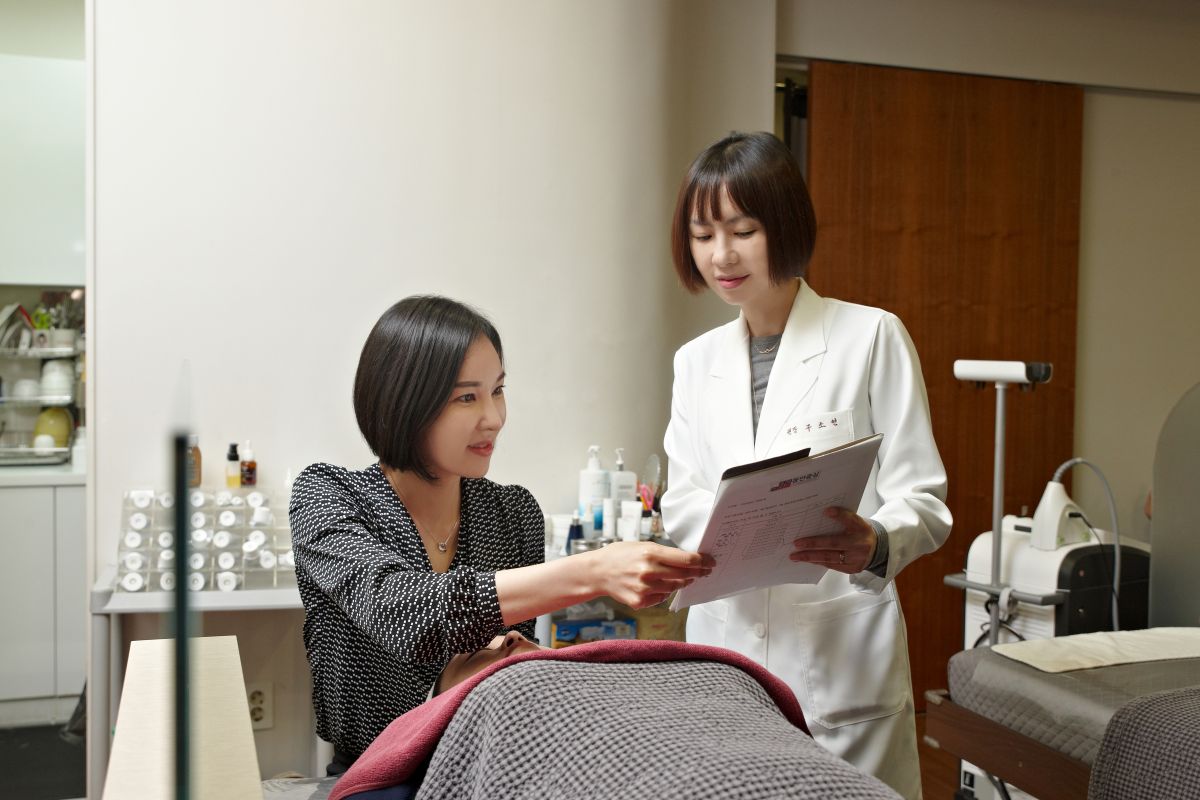 At Cheongdam Dongan Center, patients can select his/her own beautician. Customer satisfaction can change depending on the patient's personal relationship with beautician, regardless the beautician's skill level.
- Dr. Gu Soyeon and Ms. Choi Eunmi of Cheongdam Dongan Center
Skin care is also fully customized.
"In the beginning of my private practice, I organized skin care programs according to the skin condition. But after dealing with many patients, I realized that the treatment plan should be different for each patient because of their unique conditions. There are no standardized protocols to follow as we create a new program for each patient's needs. Skin care that considers the patient's unique skin type and turnover cycle, etc. is more effective than a standardized program. When a patient experiences sudden breakouts or needs to improve their complexion for a special occasion, etc. we change the program to suit their immediate needs."
Reduce Patient Dissatisfaction With an Assigned Beautician
Despite such efforts, the fastidious patients of the wealthy Cheongdam area have very high expectations. During consultation, Dr. Gu and Ms. Choi try to invite the patient in the decision making, rather than take on an instructive tone.
"Patients seeking anti-obesity treatments, in particular, can get offended when told instructions on diet and exercise. Therefore, it is important to first closely listen to the patient's concerns and demands and suggest various solutions based on academic explanations. My active participation in academic societies does help build a trusting relationship with patients."
I also focus on the etiquette training of beauticians to prevent complaints from the patients. Dr. Gu is deeply involved in employee hiring and training to improve customer service.
"As medicine is deemed a service industry, it is important to provide quality treatments as well as customer service. During the hiring process, we focus on the candidate's dedication to customer service. We invite lecturers to provide regular customer service training."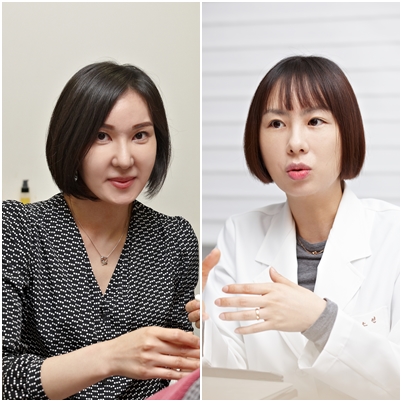 Our patients are particularly satisfied with Yonka, a French cosmetics brand, as it is effective in soothing the sensitive skin. The natural fragrances of these products also provide a calming effect.
- Dr. Gu Soyeon and Ms. Choi Eunmi of Cheongdam Dongan Center
Employees and beauticians trained in this way are assigned to patients according to their age, and demands. In our experience, patient satisfaction with the same skin care treatment varies depending on the beautician.
"Some patients feel happy with certain beauticians regardless of their skin level. I heard that one celebrity left her dermatologist, to follow her favorite beautician to another dermatology practice. We put a lot of effort to assign the right beauticians so that patients feel fully relaxed in the Skin Care Room. We often assign older beauticians to older patients and try to find the best fit for each patient."
We also offer private skin care rooms for patients who care about their privacy.
"Private skin care rooms are provided to celebrities, patients who are particularly sensitive, or those receiving a full body treatment. As patients in the private room prefer to be alone, the doctor refrains from making frequent checks on the patient. If the patient requires close monitoring, she/he is placed in the regular skin care room."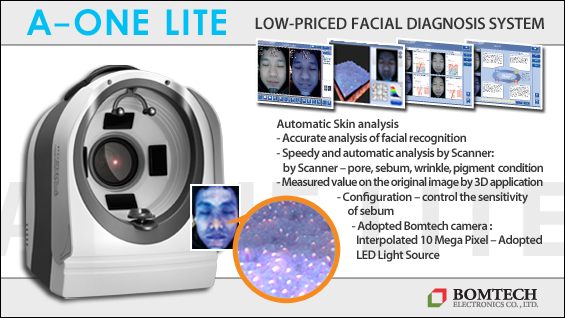 [Advertisement] A-One LITE(Facial Diagnosys System) – Manufacturer: BOMTECH(www.bomtech.net)
Due to their customized care programs, Dongan Center has to be very careful when selecting skin care products to be used in most of the procedures.
"Many of our customers are high-end and have already experienced various skin care programs from different specialists. I see many patients with thin and sensitive skin which could result from frequent laser therapy. I recommend hydration therapy rather than laser and pay particular attention to the type of products we use. From my experience of using various products, my patients were the most satisfied with Yonka, a French cosmetics brand, which is very mild on sensitive skin. Yonka proudcts contain natural fragrances which have calming effects. Patients who are hypersensitive to certain ingredients often bring their own preferred skin care products. Many of my patients use high-end cosmetic products and are generally not interested in purchasing cosmetics offered at the doctor's office. One patient told us her toner costs over KRW 1.8 million (about USD 1,500) and is not interested in the lowbrow products."
-To be continued