▶ Previous Artlcle : #12-2. Tissue Repair Stimulating Agent with Nucleic Acid
In February 2012, a Korean news program reported a story headlined 'Doctor of acid victims is nominated for Academy Awards Best Documentary Feature.' A Pakistani documentary film titled "Saving Face" was the first in the country to be nominated for an Oscar. In Pakistan, many women fall victim to acid terror attacks. According to Acid Survivors Foundation, around 150 women suffer acid violence each year in where?. Perpetrators are mostly heartbroken men who throw hydrochloric acid used in textile industry at their victims. Even when caught by police, they are often released by bribing the police officials. The documentary "Saving Face" depicts the work of Mohammad Jawad, a plastic surgeon who provides reconstructive treatment of the face for acid victims.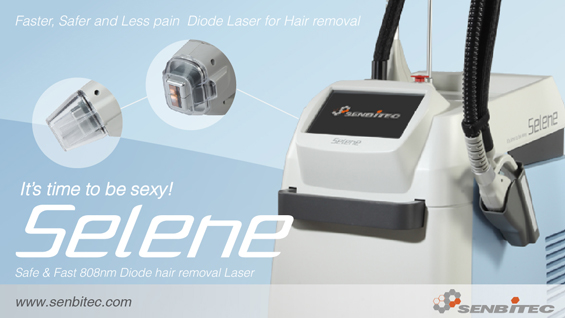 [Advertisement] Selene(Diode hair removal Laser) – Manufacturer: (www.senbitec.com)]
The following is a brief summary of the news article.
With the help of an Islamic charity organization, Dr. Jawad travels across Pakistan every three months to provide free treatment to acid burn victims. His work has changed their lives. He says "what I can do is to make their faces a little better" and "it is my ethical duty and a way to give back to my country who allowed me to learn medicine for almost free."
In the news article, I noticed that Dr. Jawad used artificial skin called 'Matriderm' to reconstruct the faces of his patients. Earlier in the series, I discussed the benefits of acellular dermal matrix. In this issue, I would like to take a look at collagen-elastin matrix (Matriderm), one of the newest acellular dermal matrixes used in reconstructive surgery.
Development and applications of artificial skin
Artificial skin substitutes started to be developed with advances in emergency medicine in the 1970s to improve the survival of the patients with extensive burns. Skin defects cause severe scars and wound contracture. Therefore, timely provision of structural and physical regeneration of dermis was needed for skin regeneration and prevention of complications. A dermal regeneration template (acellular dermal matrix) was developed for this purpose. It is widely applied to extensive burn care as well as burn scar improvement, surgical correction of wound contracture, and treatment of the bone, tendons, joints, exposed acute trauma and chronic wounds, etc. This new technique allows wound coverage with only artificial dermis or skin grafting without using the flap technique. Indications of artificial skin are expanding to cover soft tissue augmentation and regeneration.
Once a wound is sustained, it is important to promote regeneration of new tissues that are similar to the original skin structure. If the wound remains open for a long time, secondary complications such as infection can occur, making the treatment more painful and disturbing daily activities. Even after healing, severe scars or contracture can pose serious aesthetic and functional problems, which are also important aspects of wound care.
Artificial skin is used in open wounds lacking dermal coverage such as an extensive burn injury or surgical excision. Synthetic polymers or natural polymers are used as ingredients of artificial skin. The upper layer consists of silicone to prevent evaporative loss of fluids and the lower layer is a scaffold of protein such as collagen to promote ingrowth of blood vessels and connective tissues. Artificial skin actively promotes speedy regeneration of original skin tissues and is bioabsorbed and biodegraded to allow infiltration by surrounding cells.
Natural healing from a conservative method is difficult to achieve in extensive skin defects sustained from deep burns or excision of skin cancer, etc. In this case, a skin graft or flaps are generally used for reconstruction. Wound dressing with various types of dermal grafts has become easier with excellent functional and aesthetic outcomes.
To a degree, transplantation of synthetic skin tissues can prevent severe scarring and wound contracture following wound healing. Products vary in terms of composition, however, most consist of collagen, proteoglycan and elastic fiber, etc. which are key components of the dermis. Thus, they can effectively prevent scarring and contracture as well as promote synthesis of structural components of the dermis.
Artificial dermis is porous and has a high permeability. The structural factor determining the regenerative effect of the artificial dermis include chemical component, size and proportion of the pores and the rate of degradation.
Types of artificial dermis
According to Health Insurance Coverage of Paid Medical Expenses promulgated by Health Insurance Review and Assessment Service of Korea, artificial skin is classified as Pelnac (Gunze, Tokyo, Japan), and Terudermis (Olympus Terumo, Tokyo, Japan), etc. After transplantation of artificial skin when the wound surface regenerates and absorbs the product, the outer silicone layer is removed and autograft is transplanted in a secondary procedure. The treatment period encompasses 21-30 days. Primary engraftment of artificial skin takes about 14-21 days and secondary autograft treatment lasts about 7-14 days. Currently available allografts that have been harvested from a human body (i.e. cadaver) include lyophilized acellular dermal matrix Alloderm (LifeCell, Branchburg, NJ, USA) and CGCryoDerm (CG Bio, Seongnam, Korea), etc. These two types of allogeneic dermis allow synchronous transplantation as in autologous split-thickness skin graft and can be used in a single-stage procedure with an average treatment period of 21 days after transplantation (See Table 1).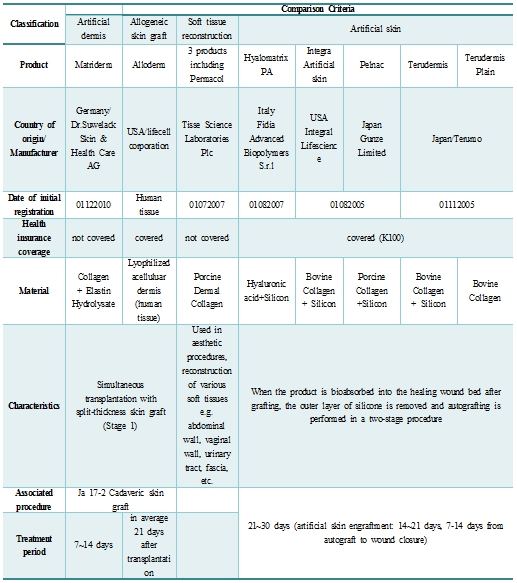 Table 1. Acellular dermal matrix
Matriderm (Skin Health, Billerbeck, Germany), a collagen-elastin artificial dermis derived from calf skin can be transplanted in a single-stage procedure as in autologous split-thickness skin graft and requires a treatment period of 7-14 days. This type of dermal substitute contains only natural-state collagen elastin hydrolysate. It works as a scaffold to enhance skin regeneration and controls formation of scar tissues. Matriderm was developed to bring dermal reconstruction in the area of skin defect. Unlike previous allogeneic skin grafts, it can be applied on both sides and hydration time is reported to be only 10 seconds in clinical settings, providing immediate coverage of the wound.
In addition, as it consists of collagen and elastin, key components of human dermis, it results in superior elasticity and functionality of the reconstructed skin compared to artificial skin substitutes. It is transplanted on areas of major skin defects such as a burn, trauma or other diseases (e.g. full-thickness third degree burn) to provide a supporting structure for the ingrowth and proliferation of existing skin cells. It is utilized to reduce the time required for skin regeneration and prevent wound contracture, a disabling sequelae of severe burns.
Case study using artificial skin
I would like to introduce a case study of one of my patients who sustained extensive skin loss and necrosis in an automobile accident and was treated with artificial skin.
Most cases of trauma-induced extensive full-thickness defect occur due to a traffic accidents or burns. Treatment of a severe wound is complicated and requires an interdisciplinary approach involving internal medicine, surgery and psychiatry, etc. Surgical techniques often used for reconstruction of soft tissues and skin are full-thickness skin graft (FTSG), split-thickness skin graft (STSG) or local free flap technique. Each method has its advantages and disadvantages but generally entails less pain during treatment and lower morbidity.
The key is to select the modality that will bring maximum functionality and aesthetic outcomes. However, in large skin defects, skin grafting is more often used than a flap technique due to lack of available donor sites. In many cases, multiple-stage surgeries are performed.
A 50-year-old female patient presented with extensive skin loss and degloving injury of the right lower limb sustained from colliding with a bus while crossing the street. At the time of initial presentation, extensive skin and soft tissue defect as well as muscle rupture were observed from the proximal anterior thigh to the distal lower leg. Full-thickness damage was seen with dry eschar forming around the knee joint (Figure1).

Fig 1. Extensive skin necrosis in the lower limb.
Debridement of large necrotic area and myorrhaphy were immediately carried out. Afterwards, several debridements and negative pressure therapy were carried out. When necrosis was sufficiently removed and the joint surface was covered with soft tissues, stage 1 split-thickness skin graft was carried out under general anesthesia using artificial dermis (Figure 2.)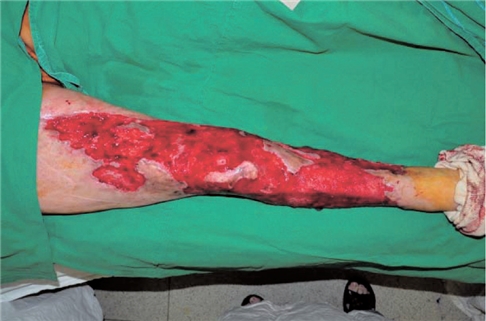 Fig 2. Formation of granulation tissues following debridement
At the time of surgery, the size of skin defect in the right lower limb was 50×100cm including the knee joint area. Six 14.8×10.5cm sheets of Matriderm were applied to the right anterior thigh, anterior and posterior side of the knee joint and the entire lower leg (Figure 3). Using the left thigh as the donor site, split-thickness skin graft was performed on the anterior and posterior sides. The donor site was dressed with foam and hydrocolloid. Engraftment following surgery was mostly successful and no complications other than partial graft failure occurred. Sutures were removed at on the 7th day after surgery and the recipient and donor sites were completely healed at on the 14th day. This patient was then transferred to Rehabilitation Medicine for rehabilitation therapy.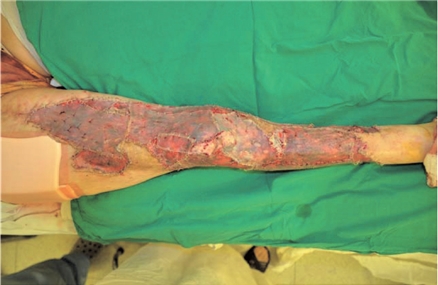 Fig 3. Wound coverage with artificial dermis
-To be continued-
▶ Next Artlcle : #13-2. Biologically Derived Collagen: Elastin Dermal Substitute