▶ Previous Artlcle : #3-2. Ultrasound Cavitation
Therapeutic ultrasound in current use mainly consist of high intensity ultrasound and low intensity ultrasound. High intensity ultrasound is most commonly used in HIFU (high intensity focused ultrasound) therapy and extracorporeal shock wave lithotripsy (ESWL). These procedures bring therapeutic effect by destroying damaged tissues.
On the other hand, low intensity ultrasound treatment promotes tissue change without damage. It can be used in rehabilitation therapy or in sonophoresis and sonoporation to increase efficiency of drug or gene delivery. This article will look into the low intensity ultrasound therapy.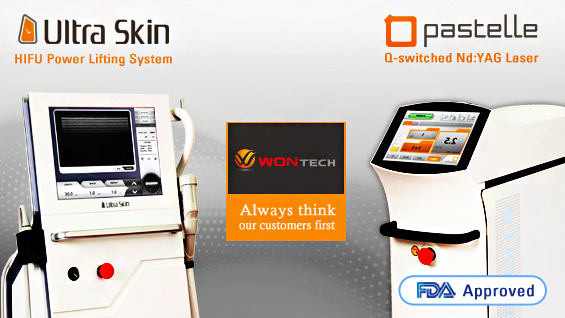 [Advertisement] Ultra Skin/Pastelle – Manufacturer: WONTECH(www.wtlaser.com)
Ultrasound in rehabilitation therapy
Low intensity ultrasound is currently one of the most widely used treatment modalities for musculoskeletal diseases. It is used for treatment of both chronic and acute damage in the ligament, muscle, tendon, and joint capsule, etc. Anatomically, it is applied to various areas including the shoulder, wrist, knee and ankle, etc. In 2002, Warden and McMeeken et al. reviewed empirical data on the energy levels used in physical therapy. They reported that pulsed ultrasound is mainly used for the acute phase in the intensity of 0.5~1.5W/cm² for the average of 5 minutes. In the chronic phase, continuous ultrasound is used in the intensity of 1.0~2.0W/cm² for 5 minutes.
Pulsed ultrasound is effective during the acute phase of musculoskeletal diseases as it reduces pain and inhibits inflammation while minimizing exothermic reaction. For treatment of chronic conditions, the temperature is raised only up to non-damaging levels (<45℃). Especially, the thermal effect is strengthened with a higher frequency, continuous wave and smaller treatment area. Tissues with high protein or collagen content will also experience thermal effect more easily. The thermal effect increases blood flow to the tissue, relaxes muscles and thereby reduces pain. However, there is scarce clinical evidence supporting the validity of this effect.
Recent studies are reporting that the non-thermal effect of ultrasound helps tissue regeneration in rehabilitation therapy. In particular, many preclinical studies and animal experiments have shown that low intensity pulsed ultrasound accelerate tissue regeneration when applied to wound closing of artificially induced incision or treatment of drug-induced ulcer. It goes without saying that a randomized, controlled clinical study with a standardized design is needed to prove that ultrasound also brings tissue regeneration in humans. However, since 1980, there have been only ten studies with valid study designs. Among these, merely two reported that low intensity ultrasound brought clinically significant tissue regeneration. Considering that these two studies were conducted by the same laboratory, their results fall short of being generalized. Despite the paucity of data, there is currently extensive ongoing research in this topic.
Low Intensity Pulsed Ultrasound Therapy
The term LIPUS stands for low intensity pulsed ultrasound therapy, a treatment method used to promote regeneration of damaged tissue. Lately this method is gaining much traction despite a lack of clinical evidence.
LIPUS was developed to promote tissue regeneration and uses spatial-averaged, temporal averaged intensity (ISATA) of 0.1W/cm² or less. This level of intensity has been understood to be similar to that of diagnostic imaging. <Table 1> compares the characteristics between LIPUS and conventional rehabilitation ultrasound.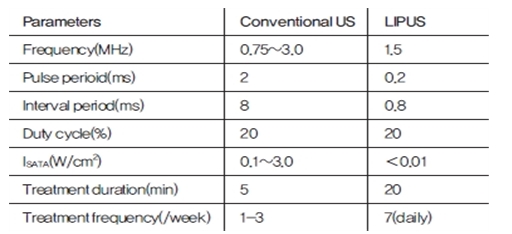 Table 1. Ultasound therapy dose: Conventional rehabilitation versus low intensity pulsed ultrasound.
-To be continued-
▶ Next Artlcle : #4-2. Ultrasound-Mediated Adjunct Therapy